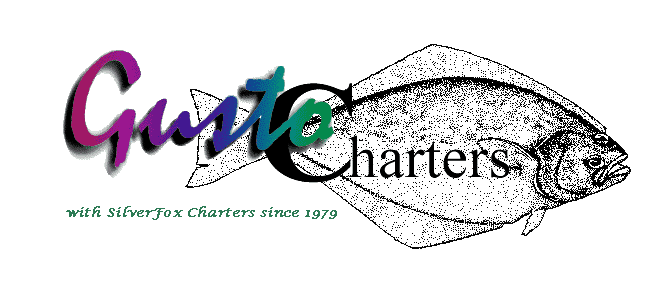 ---
Halibut Fishing Charters in Homer, Alaska since 1979

"Another Beautiful Day in Paradise"
A fast boat, a cup of coffee,
and so many fish to catch.
---
Find Out All About Halibut Charter Fishing in Homer

The "Gusto", the tackle and equipment

Your Captain and the Family Album: Who is this guy?

Are we going to catch big halibut? The real truth!

Where do we find these halibut & how 'bout the weather

General info about Homer, With a list of Hotels, B & B's, R/V Rentals etc.

How can I make a booking on this wonderful halibut charter?

Everything Else, Halibut Recipes, Seasick Remedies(updated), View Newsletter, Etc.
---
Capt. Ron Downing
1247 Bay Ave. Homer, AK 99603 Phone (907) 235-8555