"Fishing is an illusion entirely surrounded by liars in old clothes." . Don Marquis
We traditional liars have a tough time working at Silver Fox Charters. They are disgustingly scrupulous about weighing our catches, right down to using a State certified scale to weigh all the big fish. The average size halibut for the season on my boat the last few years has been between 36 and 42 pounds. So for every monster load you get you'll have one where most of the fish are in the teens. By far the majority of catches over the season are in the 400 to 500 pound range for the charter (total for 12 halibut). The nice thing about halibut is that they dress out to about 60% clean fillets, so if you hit the jackpot...well, you'll be surprised how many new friends you have if you show up in your hometown with 500 pounds of fresh halibut fillets.

This is a Great Day
950 lbs. Total - June 21, 1995


Well, OK, once in a while ya just
can't find one over 25 lbs.


Another big day
(These are the ones we like to show the most)


A good solid average day, 28-55 lbs., 490 lbs. total


"Behold the Fisherman
He ariseth early and disturbeth the entire household
He maketh mighty preparations
And fareth forth full of hope
He returneth late smelling of strong drink
and the Truth
. . . is not in him."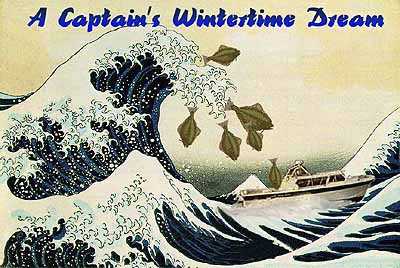 Back to the Main Page
Halibut Fishing Charters Homer Alaska Halibut Fishing Charters Homer Alaska