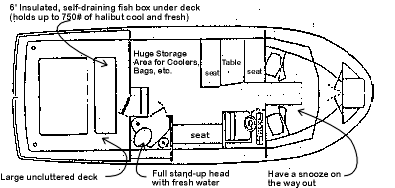 The Gusto was custom built to my specifications on the hull mold of the Glasply 30 especially for the Gulf of Alaska, Cook Inlet halibut charter fishery with safety, speed, convenience and roominess in mind. In 1995 I repowered her with new twin 200 HP Volvo turbo diesels. They deliver a 28 mph (24kt) cruising speed to get us to those distant fishing holes fast ("less time running - more time fishing"). For added reliability and long life I installed Murphy gauges, pyrometers and Pre-lube oil pumps.
Navigation equipment includes a Raytheon Radar, Trimble NavTrack GPS (Satellite Navigator) with Plotter, Ross Loran C, Raytheon Video Fathometer, 2 VHF Radios, and a CB Radio. The Coast Guard installed a Differential GPS station for our area which corrects the error in a GPS position down from +-150' to less than a boat length, so I also installed a receiver to pick up those corrected positions. Those fish have no place to hide.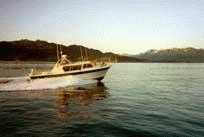 Click for an 60k *.jpg Inside there's plenty of seating as well as a large storage area to keep those bags and huge coolers out from underfoot and a full stand-up head with fresh water. I carry six sets of rain gear for those who don't have their own.
My fishing tackle has developed into a large arsenal. For most conditions most people like the Penn 6/0 reel with its low gear ratio for grinding their weight up from the bottom with the least effort. I spool these up with standard 80# Dacron line with no knot splices. For those who like a lighter rig I also carry Shimano TLD-25's, an excellent quality reel with the best drag system I've found. I have one set of the Shimanos spooled up with the new "Spectra" line, a very fine 80# line that is less than half the diameter of Dacron. We use this when the current makes it difficult to keep our bait on the bottom as it has much less drag in the water. There is also one rod set up with a Penn 4/0 lefthanded reel for the "other 10%" of the population. My rods are Penn Standup Slammers, which have stood up very well under the punishment we subject them to and seem to have just the right flex. Then there's the ultimate weapon, when the fish are growling and snarling and too big to gaff aboard safely, a shiny Ruger .44 Magnum to make sure we've got them once you wrestle them to the top.
As always I carry a maximum of six passengers to ensure personal service and the most enjoyable fishing. My business depends on getting you back year after year (and besides you're all pros your second time around!)