"Where Do We Fish and What's the Weather Like?"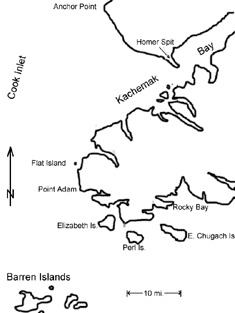 The Grounds
Our choice of fishing holes depends on many variables: the weather, where we found them before, the preferences and abilities of the party, and once in a while, a wild guess. Going out every day with the eight boats of the Silver Fox fleet working together we can track those fish pretty well. But when the current hot spot runs dry we fan out till someone finds them. So, depending on all these factors, we might fish one day up north of Anchor Point and the next day 65 miles south in the Barren Islands. Most days we find it very productive near the Chugach Islands or in the Barren Islands but occasionally its better further north in Cook Inlet.


Click here to see a 60k .jpg of the chart of the grounds.
The Weather
Mark Twain said "Everybody talks about the weather, but nobody does anything about it". The main thing to remember about Homer weather is whenever anyone talks about it you can be pretty sure it will turn out differently. That being said I will include a bunch of links, one to hear what the "experts" say it will do, some to let you make your own guess, and more to tell you what it actually is doing. The forecasts for this area are right only about 20% of the time.

The Tides
The tides around here are a very tricky subject. One can't say that the best fishing coincides with either a big tide or a small one. Inside Cook Inlet it's somewhat more clearcut. Normally a very large tide is difficult to fish as you have a short slack tide during which you can fish at anchor. When that's over you must try to drift which may or may not be possible. The very smallest tides are also often difficult to fish because of unpredictable shear currents and rotary tides. This is another reason we usually prefer to fish in the area of the Chugach Islands or Barren Islands. When the currents make everything offshore difficult there are dozens of other good places to try in the many eddies and kelp beds around the islands. We like fishing the smaller tides because the fishing is usually easier and there are more options open but, ironically, we often find that the bite is better during the big tides. (You just can't win!) I often tell people I knew a lot more about halibut fishing 20 years ago than I do today. Its amazing how well we sometimes do on days when we don't think we have a chance and vice versa.