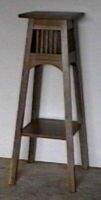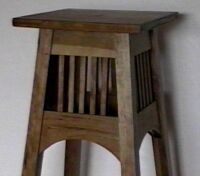 It's been quite a while since I did any furniture, so I figured it was about time. A friend sent me the plans for this piece, (he made one for his wife for Christmas) so I figured it would be a good piece to jump back into furniture making with.

Basically a simple, clean design, but with the angles legs and multiple pieces it would be just a bit of a challange. My next project will be a real workbench, followed by an Arts & Crafts bookcase. A Morris chair may follow.

At the rate I'm going though, it'll be 2005 before I'm finished! So why am I making this web page instead of going out to the shop?