It started three-quarters of a century ago with a serum run from Anchorage to the coastal community of Nome in Northwest Alaska.

There were no roads then between the two communities more than 1,000 miles apart, and there are none today. A train took the serum as far as Nenana. It was carried for the last 674 miles by dogsled. A relay of 20 mushers responded to the medical emergency -- a diphtheria epidemic.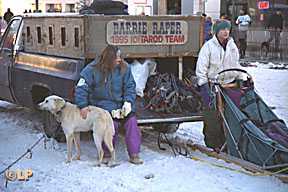 The photos on this page are from the 1996 race. On March 2nd, 1996, about 900 dogs and their mushers gathered on Fourth Avenue in downtown Anchorage to set off on a similar trip. This time it was simply for the adventure of it. Several were hoping to win some of the $300,000 prize money in the 24th running of the Iditarod Trail Sled Dog Race but most could not expect to even meet their expenses. (A local sports writer referred to $100,000 dog kennels in a story about a musher he described as an exception to that trend.)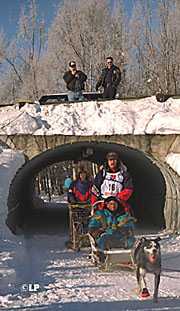 On the first day of the race, 60 mushers - most of them Alaskans but some from as far away as Norway, Italy and Japan - raced 20 miles from downtown Anchorage to Eagle River.
The first day of the race doesn't really count. It's a concession to the crowds that line the wooded trail (which includes a few underpasses and overpasses) the racers follow for several miles through Anchorage. The dog sleds carry paying passengers (who in the 1996 race included former Miss America Mary Ann Mobley and New York socialite Mary Lou Whitney) for the first few miles, too.
The rest of the race is through wilderness, and the audience then consists largely of a few intrepid reporters. The serious racing begins when the race is restarted at Wasilla, about 50 miles northeast of Anchorage, the next day. On some occasions in recent years poor snow conditions in Wasilla have pushed the restart further north. In 2003, the restart was pushed hundreds of miles north, to Fairbanks. In 2004, the restart took place just a few miles north of Wasilla, in Willow. But with more snow calling in the winter of 2006-07, everything looked good for a 2007 restart in Wasilla.
Forty-nine of the 60 teams finished the race in 1996. The 1999 race started in Anchorage at 10 a.m. Saturday, March 6.