Homer, Alaska, is quite a few things: a fishing village, an artists' colony, the sometime home of Tom Bodett and Jewel Kilcher, and, in the summer, one of the major tourist attractions on the Kenai Peninsula.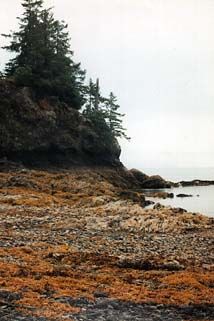 The appeal is its location and surroundings. Set near the western end of the Kenai Peninsula, Homer is about 230 miles by road from Anchorage (but only 20 minutes by air). During the summer, activities center around the Homer Spit, a gravel spit that juts five miles out into Kachemak Bay.
The spit has lots of shops, a small boat harbor, boardwalks, and scales where you can watch trophy-size halibut being weighed. It has an RV park and campground, too. Beachcombers who don't want to use driftwood for their campfires can pick up lumps off coal that have been washed ashore from an underwater coal seam.
On summer evenings, visitors can stand on a beach on the spit and watch the fishing boats round the point as they head for the harbor. One evening I counted 30. Glaciers are visible on the shoulders of the mountains across the bay.
The Pratt Museum in downtown Homer, with its collection of artwork, Native artifacts and aquariums, is also worth a visit.
The character of the spit changes in winter when the tourists have folded their tents, driven off their RVs and stolen away. That's when the eagles return in large numbers. The attraction for them is a woman who, for several years now, has been feeding them.
School groups may be seen on the spit's beaches in the spring and fall, exploring the tidepools to learn about near-shore aquatic life. Across the bay are wilderness tourist attractions including cabins and lodges in Kachemak Bay and Seldovia as well as Kachemak Bay State Park. It takes a boat ride to get to them, and that can be arranged in one of the shops on the spit. A reference point en route is Gull Island, aptly named as the photo below suggests, where on occasion the gulls are joined by a seal or two.