Winter came to Anchorage, a little more timidly than usual, in 1995.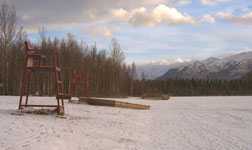 There was enough ice by mid-November for hockey in a neighborhood rink.



Would one of these players become a future professional hockey player? Several Alaskans have, including Scotty Gomez, an NHL player for the New Jersey Devils, who grew up in the neighborhood where these boys were playing.

But there wasn't much snow yet, so a snow machine was put to work at the Hilltop Ski Area.