Getting WellÖ
At Action Rehab, we work as a team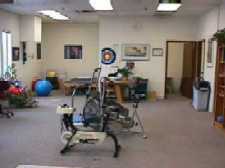 within the clinic and with Juneauís medical community to assure the highest level of quality care. The most important member of this team is you, the patient. The outcome of your treatment is based on your participation.
Your Role
As a patient you are invited and expected to participate in your physical therapy program. You will be educated regarding your injury and your responsibility for recovery. This may include home exercise techniques for improving posture, range of motion and strength, and/or methods for decreasing pain. Your improvement depends on your compliance. However at no time will you be expected to participate in activities that will worsen your condition or are beyond your capabilities. You always have the right to refuse. Your goals are important. Please share these with your care giver.
Your Therapistís Role
Your therapistís role is to evaluate your present condition and set up a treatment program specifically designed to meet your needs. He/she will be able to educate you about your specific problem, carry out your treatment plan, and provide you with written instruction for home use.
---