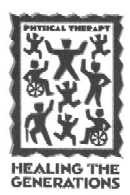 OCTOBER

The 1st Annual Action Rehab Race in celebration of National Physical Therapy Month was a success! We held the race on October 16, 1999 and it went off without a hitch. We had decent weather for that time of the year and 20 individuals participated in the race---not bad for our first race. After the race, we visited together in the main Auke Rec pavilion with a roaring fire, hot apple cider, and muffins. Prizes were given to the winners and a drawing was held to win cool Physical Therapy Month memorabilia. The following list is the overall winners from the race, which was part of the Southeast Road Runners series:

| | | | |
| --- | --- | --- | --- |
| 1 MILE: | Name | Age | Time (mins) |
| Female | Stacey Anderson | 39 | 7:35 |
| Male | Curtis Perkins | 10 | 7:46 |
| | | | |
| 10 K: | | | |
| Female | Karen Nanseth | | 41:49 |
| Male | David Pusich | | 34:03 |
Hope to see you all September 23, 2000 for the 2nd Annual Action Rehab Race.
Juneau Empire, Monday, October 18, 1999.
Pusich Wins 10K Race
David Pusich finished more than seven minutes ahead of the next runner Saturday to win the Action Rehab 10-kilometer race in Juneau.
Pusich covered the course in 34 minutes, 3.02 seconds to easily top runner-up Neil Slotnick, who posted a time of 41:27.04. Karen Nanseth was the fastest female runner, and third overall, with a times of 41:49.73.
Other male finishers of the men's race were William Olmstead in 43:19.47, Chris Iverson in 43:56.83, Patrick Gullufsen in 45:12.16 and Steve Porter in 48:06.86. Besides Nanseth, the female finishers were Eva Smal in 49:25.66, Kate Slotnick in 49:34.18, Erin Smith in 50:40.23 and Carrie Pusich in 50:42.52.
There was also a 1-mile race, with Stacey Anderson posting a time of 7:35 to claim the victory. Courtney Wendel was the second and only other female finisher, clocking 8:43.
Curtis Perkins posted a time of 7:46 to lead the men, with Scott Perkins right behind in 7:47. The other male finishers included Andy Lawson in 8:51, Zach Bursell in 8:57, Nick Bursell in 14:09, and John Bursell in 14:10.

One of our therapists went to Auke Bay school to talk to the 3rd graders about the function of muscles and the importance of good posture and safe lifting. We hope that some of these kids will take the information to heart and will avoid injuries in their future.