Chris Chiles , M.P.T.: Chris is part owner of Action Rehab and has been a physical therapist since 1994. He received his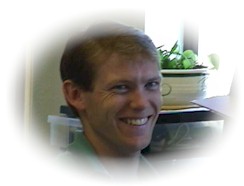 Masters degree in Physical Therapy from the University of Puget Sound and a bachelors degree from the University of North Dakota. A wide variety of musculoskeletal injuries are the nature of the practice at Action Rehab but Chris has been "specializing" by seeing all of the orthotic patients. These are people who may benefit from changing the biomechanics of their foot and ankle with inserts that fit into their shoes. People with low back pain, hip or knee problems or ankle/foot pain may see improvements with the use of orthotics. Outside of work Chris enjoys snowboarding, hiking, mountaineering and other outdoor adventures.

Stephanie Yates, MSPT, ATC: Stephanie has recently arrived as the newest member to our staff. Stephanie is originally from Virginia, but has been a resident of Fairbanks since 1989. She graduated from the University of Alaska Fairbanks in 1997 with a Bachelorís degree in Exercise Science. During her time at UAF, she provided athletic training services for the collegeís sports teams, including hockey and basketball. Shortly after undergraduate school, she continued on to receive her certification in Athletic Training. In May of 1999, she graduated with a Masterís degree in Physical Therapy from the University of Kansas Medical Center. She continues to enjoy working with sports-related injuries, as well as lumbar and cervical dysfunctions.

Julie Wilson: Julie Wilson is part-owner and office manager of Action Rehab, LLC. Julie started working in the physical therapy world when she was in high school; initially as an aide, but eventually moved over to the insurance/business side. She has worked at Bartlett Memorial Hospital PT department, Physical Therapy Center, and Action Rehab. She and Chris Chiles, PT bought Action Rehab, LLC in 1997. Julie has a Bachelors of Business Administration with an emphasis in Public Administration and Law. Julie is married and has one daughter.