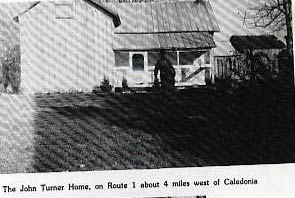 About the house, Jim writes:

This photo was maybe taken after my grandparents 
died. I remember the screened in porch from the 1950s. I have a photo of 
John Edward in a chair on the porch circa late 1920s and there was not a 
screen porch in that photo. I have a painting of the farm as it appears in 
this photo done by uncle by marriage Melvin Thomas Ives (married Ethel May 
Harris - my dad's only sister) and the painting was done in 1951. "Tom" 
painted 3 more - one for Juanita Lucille Turner Dean, Fairy Louise Turner 
Hoeferlin and the last for Cassie Corene Turner Hockinghomer - she and her 
husband Harry owned the farm by the late 50s or earlier (?). I still have my 
painting, one of my cousins has another (It hangs in her living room) and 
supposedly one of my cousins still has the other two. The fate of the other 
two though is unknown.

During the days when I use to go there, there was only electricity and I 
believe we had to get water from the well or cistern. We used the out house 
complete with Sears catalogs. No corn cobs. When Cassie and Harry retired 
there permanently, they put in plumbing and heating (use to only heat with 
the kitchen stove). The two story part facing the photographer is where the 
original log cabin is covered up. The fact that it was still in there was 
discovered during the remodeling process.

Since that time, the clapboard has been covered with siding and the place 
does not look like this any more. The ambience is no longer there but the 
memories are. At least circa 1997 the tin roof was still on and serving the 
place well.

The family kept the farm after grandma died in 1941, after which it was sold out of the family for a
number of years until my aunt Cassie Corene Turner Hockinghomer and her
husband Harry Hockinghome bought it in the 1950s. In 1976 they sold it. The farm
changed hands several times but is now owned by Kaye Wyrick who bought it
with her late husband - possible purchase date around 1990.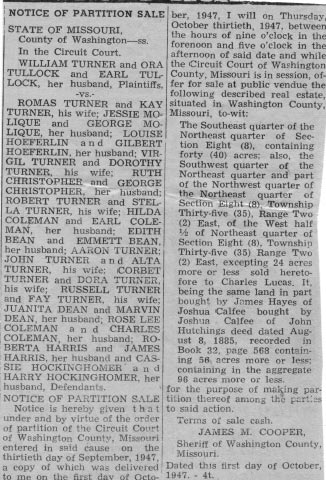 The gravel road from "BB" Highway is the white line coming from the right of 
the photo near the top. It makes a 90 degree bend and passes what use to be 
a fishing pond and nature area that my uncle Harry Hockinghome built with 
the help of the Department of Conservation State of Missouri. The road 
travels south or toward the bottom of the photo. The farm house and out 
buildings are on the right of the gravel road coming south or to the east of 
the gravel road. The gravel road makes another 90 degree bend and heads 
toward the left of the photo or to the west. It goes to Janes Creek and due 
west still and just before Janes Creek is a road that parallels the creek 
and sort of meanders along the creek for 3 miles towards the S.E. and 
eventually runs back into "BB" Highway. Belgrade, Mo. (where my dad grew up) 
is due north of the farm - straight through the woods and you go over 
"Crommer's Bluff" and cross "Big River" for 3 miles...dad use to walk it all 
the time to court mom. Caledonia, Mo. is about 3 miles east and that is 
where the Turner's attended church when weather permitted. He help build and 
found Pleasant Grove Baptist Church (long shut down but building is still 
standing) and he and grandma were pillars in that early church. He was a 
real "God fearin man."

Behind the farm house (to the right in the photo) about 1/4 to 1/2 mile 
in the woods (not visible in this photo) is
"China Hill" where my mom and her sisters use to play.

So maybe every time you see my e-mail address chinahilltop@charter.net you 
might think of this photo.  


Here's the story of the name: China Hill, and Hilltop 
Jim

Click on this link and you get a better look at "Hilltop" Terraserver image