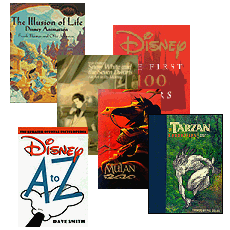 Check out this great resource!


How many drawings or cels must be created for one second of animation?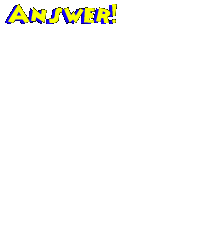 What animated feature broke all records from the sale of its artwork?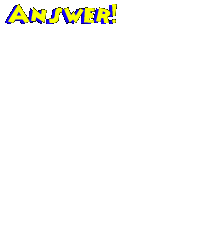 February


2nd Annual Animation Sale!
H ello and welcome to the Animaton Artshop's special section for its 2nd Annual Animation Art sale. Here you will find newly acquired production pieces that will range from a wide selection of films. There is something here for everyone and I am sure you will enjoy looking at the collection as much as I did putting it together!
During the past year I have been able to find some really wonderful pieces. As a special thank you to all of my collector friends who have supported me over the years, I have pulled together a unique collection of some truly wonderful finds to start off 2006. These special pieces will be exclusively available from February 24 through March 2, afterwhich I will open them up to the general art collecting community or put them back in my personal collection. This special February Sale has some wonderful production artwork from the Little Mermaid, Sleeping Beauty, Lady & the Tramp, Aladdin, Pocahontas, Tarzan and more. To view a particular piece in more detail, just click on the on the image. I have provided larger images of every piece for a better view. All pieces will available on a first come first served basis via email. So if you are interested in a particular piece just click on the "buy" symbol next to the piece to send me a note requesting a purchase. All artwork will sold on the basis of when the email is received.
As always if you have any questions please send me an email as I enjoy hearing what other collector's are thinking or are looking for!

Sleeping Beauty
<! a href=http://www.alaska.net/~animate/store/val/dragon-lg.jpg target="_blank" >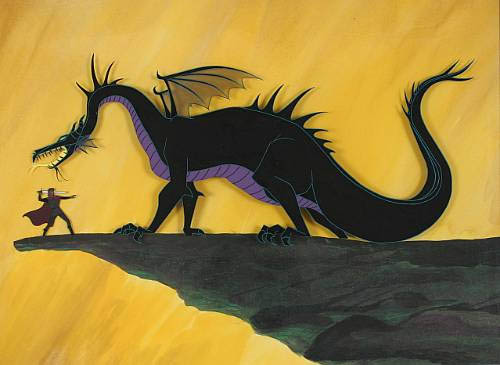 <! /a>
<! a href=http://www.alaska.net/~animate/store/val/dragon-lg.jpg target="_blank" > Fire and Fury
<! /a> Presented here is a spectacular two cel setup of Prince Philip fighting the evil Maleficent as the dragon from the climatic ending in Sleeping Beauty. This two cel setup is all production and is not to be confused with Disney's recent limited release. This production setup is complimented with a presentation background similar to what is shown in the original film. $5,900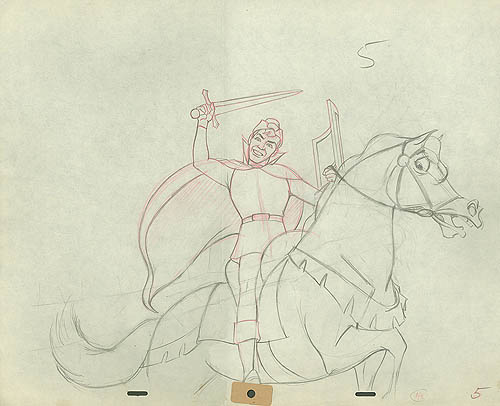 Prince Philip & Samson
Here is a great 16 field drawing of Prince Philip riding Samson on his way to battle Malificent. Nice action drawing. $450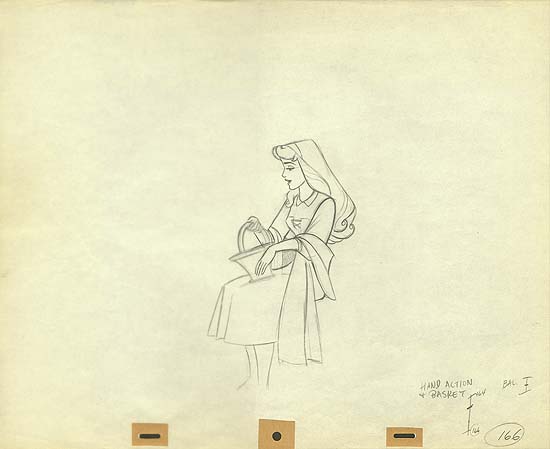 Briar Rose
Beautiful 16 field key animator's drawing of Briar Rose while she is in the forest picking berries. Nice drawing by Marc Davis who was a master at drawing the Disney girl. $375

Pocahontas

Next is collection of wonderful production pieces from the Film Pocahontas as sold originally at Sotheby's on February 24, 1996. There are some great key master setups from this film of hard to come by characters. All the pieces come framed and include the original Disney certificate as given at the special auction.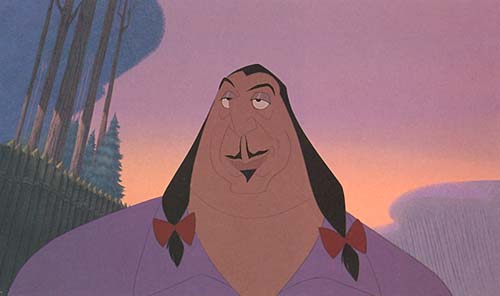 Ratcliffe
Here is a great 16 field setup of the sinister Ratcliffe. $1,450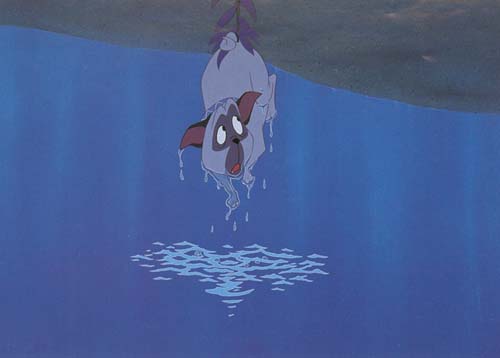 Percy
Here is a great 16 field setup of the Percy, Ratcliffe's dog sidekick. $1,450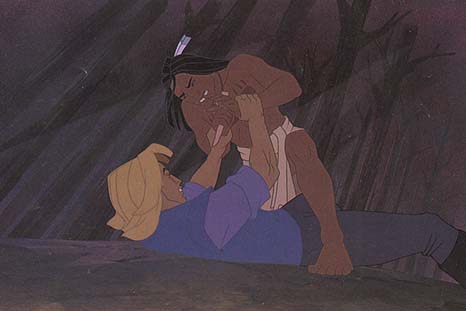 John Smith and Kocoum
From the dramatic scene where John Smith fights Kocoum, this is a 16 fields setup with a production underlay. $1,450


Saludos Amigos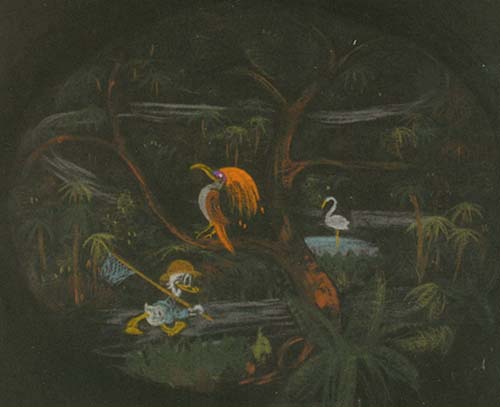 Donald Duck
Here is a wonderful pastel concept of Donald Duck from Saludos Amigos by Mary Blair This concept piece measures 11 x 14 and showes Donald wandering through the lush South American rain forest complete with the native avian friends. Very nicely done and a unique concept from Mary Blair be ing that she normally worked in other media. $3,895

Hercules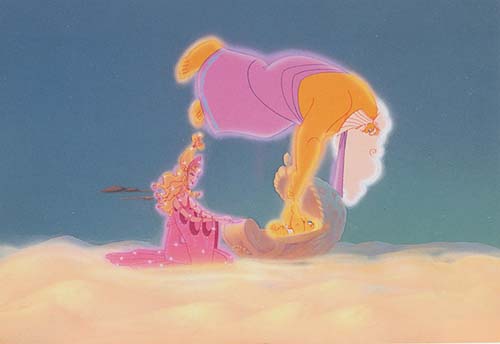 Hercules, Zues & Hera
Here is a fantastic key setup of Hercules, Zeus - His father and Hera - his mother. Multi-cel setup with production overlays. The color is stunning. A very nice piece. $3,500

Lilo & Stitch
Stitch
Original production drawing of Stitch from the first feature animated by supervising animator, Alex Kuperschmidt. Stitch is an extremely popular animation character created by Chris Sanders. This 16 field animation drawing depicts Stitch from a scene where Lilo trying to teach him on how to be good. Wonderful color highlights. $295

Stitch
Original production drawing of Stitch from the first feature animated by supervising animator, Alex Kuperschmidt. Stitch is an extremely popular animation character created by Chris Sanders. This 16 field animation drawing depicts Stitch from a scene where Lilo trying to teach him on how to be good. Wonderful color highlights. . $195

Lilo & Stitch
Here are two original production rough drawings of Lilo & Stitch from the feature film. The two drawings are shown in composite form as they would appear in the film as well as individually. These 16 field drawings are from the same scene and sequence in the film and were drawn by supervising animators, Andreas Deja and Alex Kuperschmidt. Wonderful expression and color. $375

Lady & the Tramp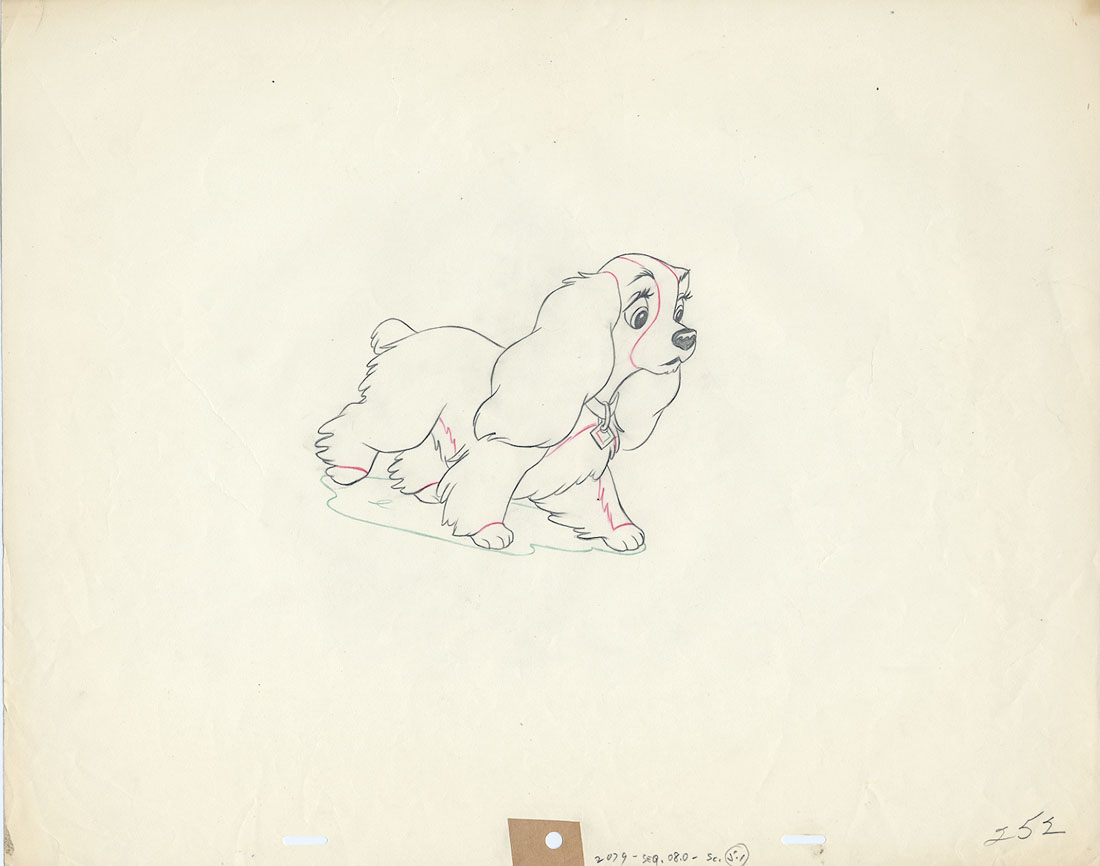 Lady
Simply beautiful...simply Lady.
Beautiful 16 field drawing of Lady from Lady & the Tramp. Drawings from this film are
exceptionally rare. $695

Little Mermaid
<!a href=http://www.alaska.net/~animate/store/val/ariel-rock.jpg target="_blank" > <!/a>

<!a href=http://www.alaska.net/~animate/store/val/lm-u.jpg target="_blank" > Ariel
<!/a> Original production cel setup of Ariel and Sebastian during the "Under the Sea" musical number. This is all production and is not to be confused with the limited that was released several years ago. This cel appeared under the camera. Full figure Ariel's are extremely hard to come by.
$1,595
Ariel
Original production clean-up drawing of Ariel from the Little Mermaid. This is a beautiful 16 field drawing with Nice color highlights. The detailed line work on these clean-up are some of the best I have seen! I love the expression on her face
$325
Sword in the Stone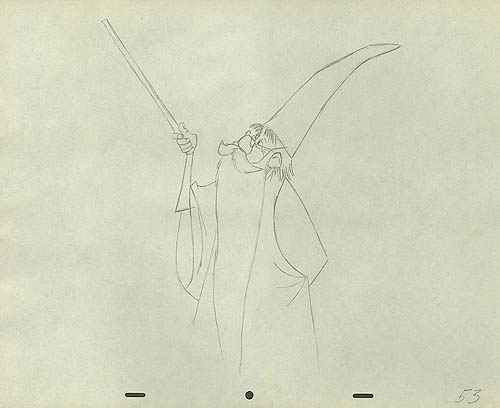 Merlin
Beautiful 16 field drawing of Merlin from the Sword in the Stone, released in 1967. This drawing was done one of the Disney greats, Milt Kahl. $295


Brother Bear
<!a href=http://www.alaska.net/~animate/store/l-s.jpg target="_blank" > Rutt & Tuke
<!/a> Original rough animation drawings of Rutt & Tuke by the supervising animators, from the Little Mermaid. These 16 field drawings are sold as a set and show wonderful expression with dialogue on some and nice color highlights.
$375

Tarzan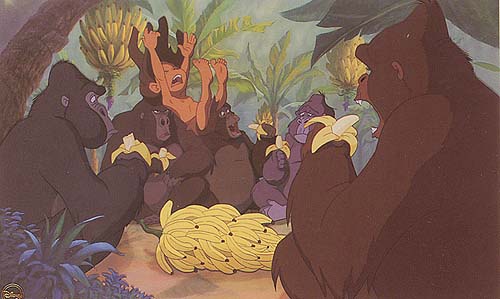 Tarzan & the Apes
Here is a beautiful key setup of Tarzan and his ape friends getting ready to crash down on some bananas! A lot of action in this piece and the background is really quite beautiful. A multi-cel setup complete with production overlays. Email me, I can show you more detail! Very nice and affordabe piece from this popular film. $1,450


Jungle Book 2
The Jungle, Yeah Man!
Original production background of the jungle from an early sequence of Disney's theatrical release of Jungle Book 2. This piece comes framed in a multi-plane effect with the production overlay separated in the matting for more detail and realism. A really beautiful piece.
$1,550
Mowgli & Baloo
Original production drawingMowgli and Baloo. This is a great 16 field character drawing of the two classic characters at very reasonable price.
$175