Shown below are examples of baskets Pat has created recently. All baskets are available for sale but buyers must be aware that each basket is unique. Your basket will be very similar, but not exactly the same, as the ones shown here.
This is an assortment of pine needle baskets. The decorations vary . . . pine cones, shells, wooden oblong, carved bone, and a duck head sitting on feathers. The prices vary by size; $50 and up.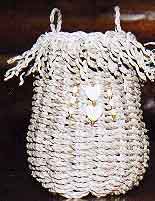 This is a seagrass basket with bone hearts and bone ovals alternating with amber glass. This design is also available with bone butterflies, fish, cats, etc. Prices are $59 and up.
| Home | Biography | Basket Gallery | Contact Information |