Home


Meeting Planner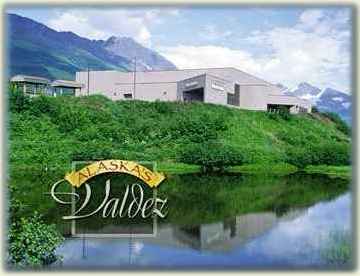 MEET IN VALDEZ The Valdez Convention & Civic Center provides the ideal setting for your meetings. Among its theatre, grand ballroom, and conference rooms are twenty thousand square feet of accessible and flexible space. This function environment is enhanced by the facility's spectacular and scenic setting. The grand ballroom has six thousand four hundred square feet which is available in its entirety or in three separate, soundproofed sections.
Each room is fully equipped with theatrical lighting and sound capabilities. Stages in three levels, raised tables, and dance floors are available to fit your needs. The ballrooms are utilized for a variety of purposes including banquets, exhibits, meetings, and concerts. Adjacent to the ballrooms is a complete commercial kitchen with extensive preparation space. Food service equipment includes complete catering cookware along with china, glassware, and silverware. Valdez has several experienced caterers to meet your food and beverage requirements.
The Valdez Convention & Civic Center offers a professional performance theatre. The theatre is furnished with inclined seating for 484 delegates and guests, a raised stage, and a green room. Cyclorama curtain, special effect lighting, modern sound and projection equipment, a nine foot Steinway grand piano, dressing rooms, and wheelchair accessibility are additional features of the theatre. This room serves well for plenary meeting sessions or evening performances. The conference room also separates into three distinct spaces for breakout, board, or committee sessions. Each is equipped with soundproof partitions and comes with a panoramic view of Port Valdez. All public areas conveniently adjoin the main hallway. This hallway is considered the center's scenic hall with its south wall of windows offering majestic views of the Port and the Alyeska Pipeline Marine Terminal. The space works well as registration, exhibit, and information functions and is wheelchair accessible.
INTERNATIONAL TRADE & EXHIBITIONS
The Valdez Foreign Trade Zone provides exciting opportunities for expositions. For international companies interested in developing American customers, FTZ Number 108 is an excellent location for product demonstrations. Goods may be exhibited here without acquiring customs bond. Merchandise may be stored for any length of time without customs duty, bond, or excise tax. The Valdez Foreign Trade Zone is a duty-free and quota-free area designed to facilitate the entry of foreign and domestic merchandise into the United States. Here, the access to international transportation is convenient; plus, domestic and foreign product components may be combined in the zone to create a favorable marketing advantage.

Additionally, the FTZ acts as a cost reduction center where payment of duties and taxes is deferred until the goods enter the USA or eliminated if exported internationally. A very favorable climate for international expositions and business is available within the Valdez Foreign Trade Zone. Consider Valdez for your next event.

CONVENTION SERVICES Available from the Valdez Convention & Civic Center and the Valdez Convention & Visitors Bureau:
Meeting Planning
Local Service Arrangements

including lodging, catering, and transportation

Site Inspections
Registration Assistance
Costumed Bears
Attractions Video
Housing Bureau Assistance
Office services:
Information Materials

At no cost:

Vacation planners
Street maps
Brochures
Special retail offers
Restaurant menus
Welcome signs
Mayor's Welcome Letter

For a nominal fee:

Name tags
Plastic bags
Registration folders
Buttons & pins