Private Charter boat trips in beautiful Southeast Alaska. Catch salmon, halibut, crab, shrimp, and rock fish, or relax and enjoy the view. Hot springs, small villages, glaciers, and wildlife. What are you waiting for?

---
Join us aboard the Top Dog with captain Lauren Burch for an exciting vacation adventure on calm Southeast Alaska waters. Our 30 foot Californian is large enough for a smooth ride, comfortable multiple day trips, and small enough for quality fishing, sightseeing and wildlife encounters. Every trip is a custom adventure based on your interests. Length of trip, destinations, and activities are based on your desires. Suggested trips are simply to provide a better understanding of the possibilities. Discounts are possible when you can fit around other client schedules. If you are flexible on your dates, exceptional values are often available.
Our trips are on the "inside waters" of Southeast Alaska. There are opportunities to get off of the boat daily, and nights are spend at the dock, or anchored securely in a protected harbor. In minutes you move from civilization to wilderness. Every day brings something to take your breath away. Visit a small fishing village, or local hot springs. Hike, cruise, and sightsee, or fish until you drop. We catch halibut, five species of salmon, crab, shrimp, snapper and rockfish. See whales, eagles, bears, seals, sea lions, porpoises and orcas. A hydrophone makes listening to whales just as fun as watching them.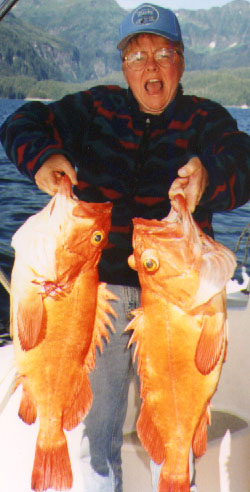 The Top Dog is available for drop off and pick up for backpacking, climbing, kayaking, hunting, and fly fishing. Check out our links for other things to do, lodging and air travel.
Fishing Photos
---

The time and temperature in Juneau



See our other pages for an idea of the possibilities. We are so confident that we provide the best service at the best price. that we provide the address of some competitor and some complementary sites.
http://www.alaskafishing.com
http://www.alaska.com
http://www.fishing.com
http://www.travel.com
http://www.cruise.com
http://www.alaskacruise.com
http://www.alaskaairlines.com
http://www.alaskamarinehighway.com

Web page design by C. Fulwiler