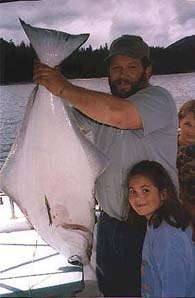 Alaska Top Dog Charters
General Information
Email Alaska Top Dog Charters
Left:Six year old Jessie with a nice halibut.
---
The Top Dog is a comfortable thirty foot Californian. Power comes from a single Perkins diesel and we cruise at about 11
miles an hour. We have enough range and provisions to go anywhere in Southeast Alaska. The number of passengers is
dictated by your interests, relationship with your companions and the length of your trip. Three adults or two adults and two children can sleep comfortably. Six people can be comfortable on day trips. The V berth sleeps two adults comfortably, has a bunk for a child, a TV and VCR. The kitchen area includes a stove, oven, and small refrigerator. Regular electrical service is available for things like recharging your video batteries, or a razor. The dining area seats six comfortably and sleeps two.
The flybridge is the place to be on nice days and seats up to four. The back deck is covered in case of rain. We have a raft with motor on board for trips ashore, and can transport several kayaks. Rain gear and rubber boots are smart to have along if you wish to go ashore. They will not be necessary while on the boat. Bringing along comfortable non-marking deck or tennis shoes will score you big points with the captain. We provide fishing gear, tackle, and bait. A hydrophone makes listening to the whales just as fun as watching them.
Be assured that your captain has exceptional knowledge of local waters and knows where the fish and
wildlife are! With a little notice we can have fresh salmon, halibut, snapper, rockfish, several varieties of crab, or shrimp for dinner. You can eat what you catch, plan to take home coolers full of fresh or frozen fish, or never dip a hook. Daylight hours in Alaska far exceed your ability to stay awake. As easy as you want to take it, or as hard as you want to push, this is the boat and captain for you. We have sent home relaxed and rested couples, and exhausted fishermen that slept through their whole flight home!