7 Gables Inn & Suites
4312 Birch Lane
Fairbanks, AK 99709
P.O. Box 80488
Fairbanks, AK 99708
Phone 907/479-0751
Fax 907/479-2229
e-mail: gables7@alaska.net
Site designed by
Alaskan Web Pages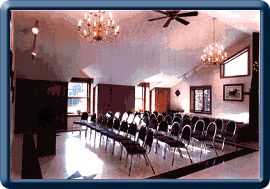 Our meeting room is a comfortable place for retreats, board meetings, special occasions, receptions, and events.
We are conveniently located near the University off Geist Road.
We offer the following:
A computer with internet access
Private meeting room
Buffet tables (hot and cold)
Catered meals and breaks can be arranged
Phone/fax/modem jacks
20 parking spaces and plug-ins
Airport and railroad shuttle by prior arrangement
Conference and audio/visual equipment available on site, including: overhead projector, fax machine, dry-erase board, flip chart, VCR/TV
THE COST?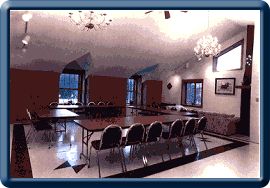 Day rental is only $100.00; deposit required. We welcome you to come by for a tour of our facilities. For more information, reservations, please call 479-0751 or e-mail us at gables7@alaska.net.
The meeting room is 30" x 23" (690 square feet). The commercial kitchen is 10" x 20" (200 square feet) adjoins the meeting room for a total of 990 square feet.


Back to 7 Gables Inn
& Suites Home
---
http://www.alaska.net/~gables7/meetings.html