Tennessee became a state in 1796.
Washington county was formed from Washington county North Carolina in 1777 
and at first included most of present day Tennessee.
Sullivan county was formed in  1778/79 from Washington county.
Greene county was formed in 1783 from Washington county.
Davidson county was formed in 1783 from the western part of Washington 
county.
Sumner county was formed in 1786 from Davidson county.
Hawkins county was formed in 1786 from Sullivan county.
Tennessee county was formed in 1788 but was dissolved in 1796 when Tennessee 
became a state.
Williamson county was formed in 1799 from Davidson county.
Maury county was formed in 1807 from Williamson county and Indian land.
Giles county was formed in 1809 from Maury county.
Lincoln county was formed in 1809 from Bedford county.
Hamilton county was formed in 1819 from Rhea county and Indian land. (The 
extreme southeast part of Tennessee remained as the last stronghold of 
Cherokee land in Tennessee).

PHOTOS
******To see

LARGER picture,

click on any photo- it will enlarge.
---

KNIGHT GROUP leading to PEARSON/PIGG
Knight Crest
Commissioned by Elsie Knight Moore,..painted by Mrs. Orr, given to me by Dad, Charles Knight. ...... ....Click here for DESCRIPTION of crest insignia.
Andrew J. Knight and Olivia Beckham Knight (aka Lethe,Lethy)
Andrew later in life. Thanks to Deb Woodward.


Charles and Sallie Knight
(thanks to Deb Woodward) also....



Sallie Bugg Foster Knight
Sallie's husband was Charles Daniel Knight. Sallie had a firey, fiesty personality. Dad provided this photo and others of Sallie.


Charles D. Knight
(Warning....this photo was formerly thought to be John C. Pigg. We now know this is not the case. Sorry to all and Thanks to Deb Woodward for the proof.). This picture of Charles D. Knight was one of those huge oval, bulged pictures, provided to me by Dad Knight.

Charles W. Knight, Grandpa, as a young man. Also his brother and sisters. (most of 'em).

Knight Family Group photo, children of C.D. and Sallie Knight, was taken in 1935, but the other one is much earlier. It intrigues me how they all look the same but different. Photos from Dad's collection.
Charlie and Clemmie (Pearson) Knight.
Nanny and Grandpa at their home on Bear Creek Pike.

Dad as a kid-Charles J. Knight
About 1931,Charles Jr. Knight shows the big smile he always has had.
Charles and Georgie Knight on the big day.
They are a happy looking couple. Dad shows that big smile again.





Will and Sara Etta (Pigg) Pearson.
These are the parents of Nanny (Clemmie Pearson). Dad Knight provided the photo; it was one of those huge oval things. It is amazing that you don't know what treasures people have till you show an interest.

---

From Cousin P.A. about the picture:
"""I also have the same picture of Grandma and Grandpa Pearson setting on the book shelves in my den. It was made at their 50th anniversary. The same picture was in my aunt's guest bedroom in Washington, D. C. when I was growing up. The one I have is small. """
......The FINLEY connection.......Sara Etta Pigg's mother was Sarah Finley..Will and Sara Etta (Pigg) Pearson... click here to see the decendency chart Note: this is a Microsoft Word rtf file. The message will ask if you want to open or save the file. Just "open" if you want to see it.
---

AUSTIN Group leading to TYLER
J.W. Austin and Sarah Elizabeth Epps Austin and family about 1889

J.W. Austin and Sarah Epps are the parents seated in the middle. Laura Austin is standing in back on right. The rest, from the left, are Anna, Charles, Frances (Fannie), John, Myrtle (in front of Laura), Garthy (unborn), Children seated left to right: Will, Jim, Media Mae- in mom's lap, and one-to-be. This photo was early 1889 in Maury County. Wayne Austin provided this photo.
Laura Austin Tyler
Laura was known as Momma to her 4 children and to her grandaughter Georgie because she raised them all together. She was hardworking and kind, extremely quiet, and very protective of her family.


Laura Austin at a younger age, probably before marriage to James Tyler
This photo of Laura as a young lady was extracted from an Austin Family photo. Wayne Austin provided both the photo and the extraction.
TYLER

James Marion Tyler, "Big Jim", with second family (photo probably about 1910)
James M. Tyler had a big red beard. I have no photo of his first wife, Amanda Thomas who was my g-g-grandmother. This lady is Ella Burkett, his second wife. The boys are his and Ella's son Lewis, and Jim's grandson, Clarence, who is Grandmother's half brother. Clarence is the boy in back.
**This version of the photo was very kindly edited by Jason: he said:
Hello- You dont know me but I randomly came across one of your family pictures off your website. I was googling something and saw an old wrinkled picture in pretty bad shape. So I was bored and thought i would clean it up a bit. I thought it turned out alright, so why not send it back to you. Thats all really, have a good day. Jason
Wasn't that awfully nice???? :)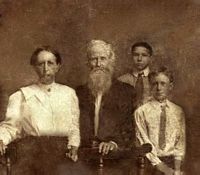 ---
This is Benjamin Franklin Tyler---if he is your ancestor---please contact me. We want to know how he might be related to James Marion Tyler.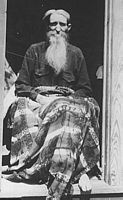 ---

James Walter Austin and James A. Tyler
A young James Tyler standing next to James W. Austin, his father-in-law, Laura's father, who is also my g-g-grandfather. It could be a wedding day photo or some special occaision. It is too bad we only have half the picture; there might even be a woman seated on the right. This photo came from Mom's collection.



James A. Tyler, "Little Jim", in mid-life
A Culleoka resident, Jim Tyler had the first appendix operation in Maury County. Thanks to Georgie Knight, his grandaughter, for the photo.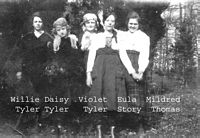 Five Jolly Girls
My Grandmother on the left, then her 2 cousins, then Eula Story, and friend Mildred. Amazingly this photo was from Bill Inmon's mystery box. Bill Inmon is a decendent of Benjamin Tyler. We are still looking for the connection between his Benjamin and my James M. Tyler. We are sure there is a connection or he could not have had this photo and others of my relatives!! Any one with information on Benjamin F. Tyler, please contact me. (address in header at top).
Now, recently, a new decendent of Eula Story has surfaced...our new cousin Mike Austin. Welcome, Mike, and thanks for your input.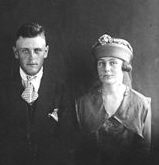 Wedding Photo Clifford Dawson, Willie Tyler about 1921
Note: the specks on her chin are not a flaw in the photo, they are decorations on the veil.

Grandmother in her High School Graduation picture. Grandmother = Willie Tyler (Dawson)(Hight)
This picture appeared in the 1929 Culleoka High School yearbook, next to Ruth Pearson, her good friend, and my great-aunt.

Grandmother, Willie Tyler Dawson Hight
Guessing on the date and occasion, this might be around the time of her marriage to Seavy, who we knew as Pa, about 1931. (again, dating is just a wild guess..Could very well be 10 years earlier)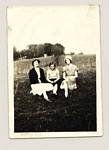 Mom with her grandmother and her aunt
Laura "Momma" Tyler, Georgie Mae (Mom) , and Aunt Dude (Eula Tyler, Grandmother's sister). One of my fascinations with a photo history is how traits are passed along through the generations. In the tilt of Mom's head, I see Dawson features. In other photos of her, I see likeness of Grandmother.


Mom and Grandmother
My mom, who said her knee knuckles were showing. The Austin and Tyler ladies were aggressively protective of their children; the stance here gives hint of that characteristic.



Grandmother as a young career woman.
Grandmother became a teacher and principal. She also drove the school bus, headed the PTA, and working with the Women's Business and Professional Club. (B&PW). Mom often described Grandmother as "dignified". This photo shows a bit of that quality.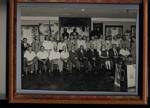 Grandmother-a woman ahead of her time.
She takes a front row seat in the meeting of Maury School Bus Drivers. Notice the podium has a log on it!!!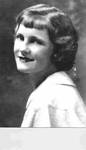 Mom, age 15
Georgie Mae Dawson: Only child of Willie Tyler Dawson Hight.
Mom and her pony, Buttons, won a lot of horse show events. This dress was one of the awards.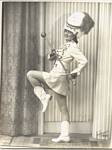 Mom the Majorette Extrordinaire in her chapeau
Mom made quite a splash at the head of the band.


---

Dawson Group
Amos Dawson Sr. b. 1802
Amos Dawson Jr. born 1829, (photo probably about 1879?)
Amos Dawson Jr. is seated with children of second marriage.
No photo available of first wife Rebecca Burgess.
Photo provided by Alleene Henry.

.................Link to DAWSON Cousins Website


---

PARK AND HIGHT
Elizabeth Lenora Park.....Pa's mother. and wife of James Cordie Hight
Elizabeth Park Hight looks very much like her second son, Seavy Hight, in his younger years. With a blend of old art and new technology I have finally been able to post this 130-year old picture, using a digital camera to photograph the large cardboard picture/painting (I'm not sure what it is called.).

Seavy Hight (Pa) as a young man.
I am guessing on the date, but this was probably taken around the time he married Grandmother. Check out the wonderful necktie arrangement. (click photo..it will enlarge)


Pa and Grandmothers house
Pa bought this house from the Presbyterian minister who had built it. It sat on a stretch of Fountain Creek amidst fields and large trees. Pa worked on it for many years, adding oak floors, wallpaper, and rooms. Mom undertook to have it moved to Culleoka after the TVA dam threatened to flood it.
............................. Richardson Saddle
---

OTHER
I wish to announce the passing of our friend and fellow Maury County native Jack S. Dugger. Jack was approaching centenarian status with as clear a mind and writing diction as any could possess when he met his maker. His presence and gifts of life are greatly missed and so we want to briefly remember this old soldier for Christ here.
JACK S. DUGGER, Sr. 1918 - 12 Jan 2010
Mr. Jack Dugger Sr. age 91, born in 1918, one of Middle Tennessee's most storied citizens passed away on January 12, 2010. He was preceded in death by a brother, Leland (Nan) Dugger.

He was survived by his loving wife of 70 years, Jean F. Dugger. Also he & Jean have one son, Jack S. (LaDonna) Dugger, Jr.; three grandchildren, Neal Dugger, Jennifer Dugger, Kimberly (Adam) Franklin and six great-grandchildren.

Jack completed his schooling at Columbia Central High School in Columbia Tennessee, David Lipscomb College and Vanderbilt University, both colleges located in Nashville Tennessee.

After schooling he spent the World War II years working in the Oak Ridge Tennessee Project, for the effort developing materials for the Atomic Bomb. Unknown to Mr. Jack another Maury County person Dolly Barlar Davis also served in that effort. At the time he nor few involved in that effort had any idea what they were working on.

After Oak Ridge, Jack tried merchandizing in various stores. Soon he returned to his engineering roots and spent several years in the aircraft Industry in Nashville Tennessee on Vultee Blvd near the Airport. He became a staff engineer with a company known as Vultee Aircraft who later became known as Avco Aerostructures.

About 20 years after he spent time in the aerospace industry in Nashville this author likewise spent 6 years with the aircraft manufacturer at the same location. By then it was a different company. Jack kept abreast and swapped information with me concerning the survival efforts for that industry, which has 50 acres of underground buildings and about that much above ground. The well situated facility and it people were important to the winning effort of WWII where at the time they made the twin engine P-38 Lightning Aircraft and other Aircraft subassemblies and thereafter continued to supply important wing assembles for major aircraft, both military and commercial for America's dominance in flight.

With his many talents Jack also worked in other vocations, but eventually settled into ownership and operation of Dugger Insurance Agency where he spent the most successful & last years of his productive life until retirement.

He was active with the historical community of Maury County Tennessee where he was a native. Through friends and distant kin and with web sites he shared several community histories and humorous stories of the people and events he knew as a child around the county covering the early 1900s and even earlier.

Jack was constantly looking out for new Dugger connections. He maintained lively exchanges with cousins and others throughout the country for many years keeping alive the histories of early times in Maury County, his native county. With his gifts he was careful to see that his newly discovered distant family members felt they were a part of the extended Dugger family. Jack was always public spirited. He practically excluded no one from his inner circle of friends.

He was a member of Brentwood Church of Christ in Nashville, and in times past had been a part of many church ministry outreach efforts traveling around to spread the Gospel of Christ.

Funeral services for Jack Dugger were conducted by David Thomley and David Claypool January 15, 2010 at 11:30 a.m. Visitation took place that Thursday from 2-8 p.m. and again 1 hour before the Friday service which took place at Woodlawn-Roesch-Patton Funeral Home, 660 Thompson Lane, Nashville, Tennessee.

His remains were laid to rest in the Woodlawn Memorial Park, Nashville, Tennessee near the funeral home.
This is a compilation with contributions by Dianna Taplin of Alasska, Judy Forgos of Ohio and Wayne Austin of Alabama.
Below is one of his stories here for your delight.
The trip to Columbia to Columbia Central High School
By Jack Dugger, b.1918. d. 2010.

I was twelve years old and a freshman when I started driving from Southport to Central High School in Columbia. This was in 1930 and there were no busses for picking up children going to school. Our family car was a 1929 Chevrolet, two-door, two seated, coach. I picked up 5, (yes, five) more students, one boy and four girls), on my way to town. The County provided a small stipend for transportation and they each gave me this for their rides. There was not such a thing as a drivers license and we had no liability insurance on the car nor for my passengers, (never thought of such a thing-scares me silly when I think of it now).

The 1929 Chevrolet had a "mind of its own," it was hard to start with the battery and was prone to break rear axles. I bought cylinder oil in a 5-gallon can and kept two quart fruit jars with pouring spouts filled with oil at all times. We had no spare tire or wheel. The wheels had wire spokes and were heavy to handle. Flat tires were the norm because we lived on a gravel road. Fortunately I never had a flat tire while driving but a number of flats while sitting in the garage or parked at school.

I parked the car on a hill at school so that I could coast off and get it started. Every morning when it was cooler, my Daddy put the harness on one of our mules, Old Dan, and when I was dressed and ready to start out to school he would hitch Old Dan to the rear of the car and make him pull it out of the garage. Then he would hitch him to the front of the car and pull it down the road until I could get it in gear and start the engine that way.

My tale really concerns a flat tire at school. All of my riders came out of school and ready to go home when we found a flat tire on the rear of the car. John Patterson, my male rider, and I jacked up the car at the flat having "scotched" the other wheels with rocks.

We couldn't think of any way to get the tire repaired except to roll it out to Jess Nichols" garage on the edge of town, a distance of about two miles from school. So, we left the four girls in the car and headed to Jess Nichols' garage, with John Patterson rolling the wheel with the flat tire. When we started down School Street and down a long sloping hill. Be as it may John accidentally let the wheel get away from him. As it picked up speed down the hill it slammed into a ditch on the right side of the street, jumped back across the road and onto the sidewalk. It rolled down the sidewalk having picked up more speed. An old man with a grass sack full of bottles that he had collected to sell to the junk shop was walking up the walk towards us. He saw the wheel rolling down the walk and did a little dance trying to avoid it but the wheel hit him squarely, knocking him down and scattering broken bottles every direction. We got to the scene and helped the old man get to his feet and ascertained that he had no serious injuries. We picked up all of the bottles that were not broken and asked him how much he thought the broken bottles were worth. He told us about five dollars which we thought was about twice the worth however we pooled all the money we had in our pockets and it came to two dollars and fifty-two cents. He saw that this was all we had so he said that this would be acceptable. We gave him our money and he went on his way and we went on our way to the garage-however, I rolled the wheel from that point. We never thought to ask him his name nor did he ask us for our names. This was the end of this incident except that we finally got to the garage. Jess repaired the flat tire, remounted it on the wheel and drove us back to our car in his wrecker where with his help we put the wheel back on the car. We were somewhat later getting home than usual because of this incident.

I have reflected on this incident many times during these 75 years, (I am now 89-hoping for 90), and thought how fortunate we were that the old gentleman was not really injured and caused us no more trouble than the payment of $ 2.52. Should this happen today there would be a lawsuit claiming injuries of perhaps a million dollars or more. We never knew his name nor did he know our names but I have never forgotten my feelings when this accident occurred.

Jack and Jean Dugger, Nashville Tennessee 11 Oct 2007
---
---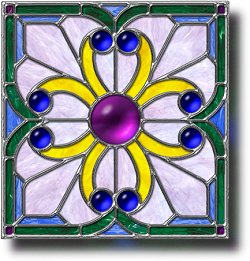 Stained glass image from http://blueharegraphics.com