This lady in the glasses is Sarah Etta Pigg Pearson. She was my ggrandmother. Her husband was William Lafeyette Pearson.

Sarah Etta is standing with another lady in a dark dress who I presume must be her sister.

In the third photo the woman is standing next to a man, presumably her husband. What's his name??? DOES ANYONE RECOGNIZE THIS WOMAN???? Is the woman in next to the man the same woman as the other one?
If you have information about this, please email me at: dtaplin@alaska.net

New indentity clarified June 13, 2009 Tennie Ethel Sands Pearson by her grandaughter, P.A. Tennie was wife of John Willie Pearson.

See more info below the photo.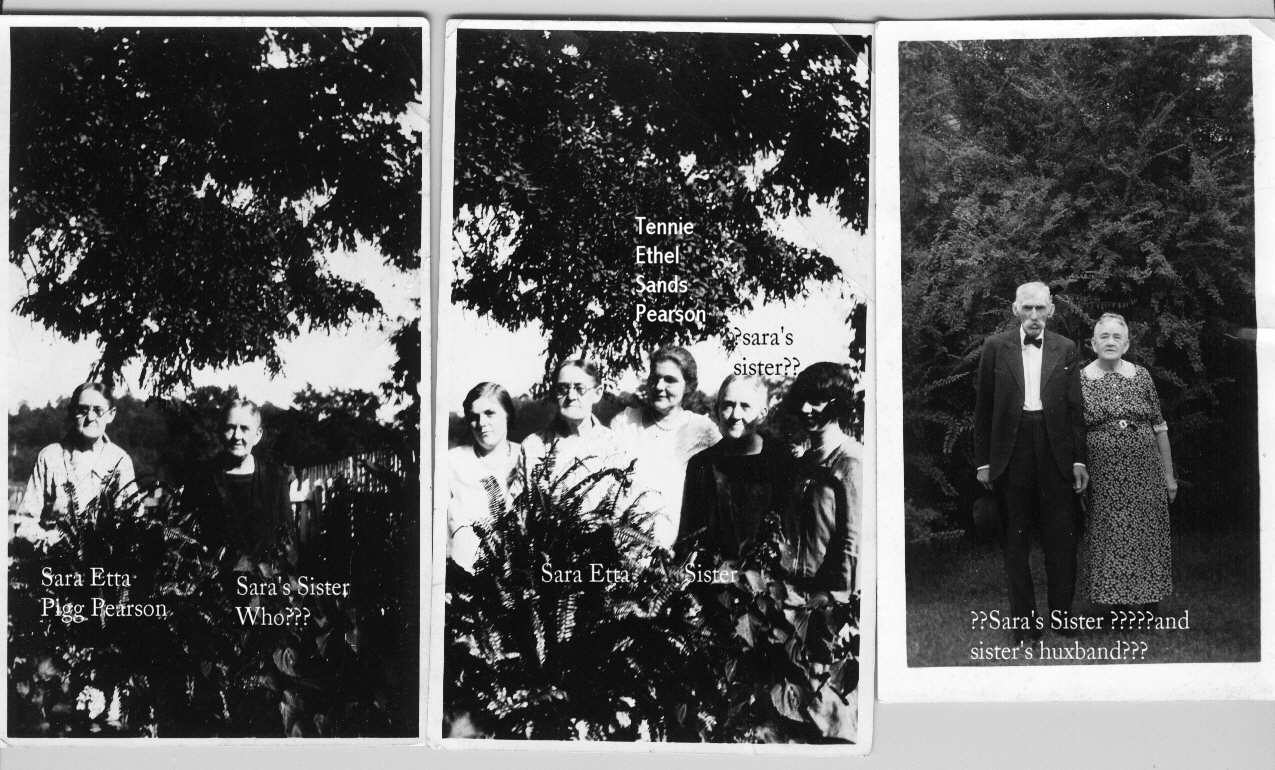 Thanks to James and Penny for finding and filling in data on Tennie Sands Pearson. She apparently was from a family of 12 children, and her father had 3 wives, Sara Elizabeth Coffee, Sara Ann .Embry, and Sallie Callahan (no children). The Children:
Lucy E, William J, Robert Lee, Willis Franklin, James Buford, Nancy E, John Howard, Leila C, Hattie Ann, Thomas Calvin, Tennie Ethel, Simeon C (died at birth??)(followed by mother shortly),
Other wife Sara Ann Bertha, Nina
We also found out that Tennie had another husband before John Willie Pearson:, Mr. Thomas Roy Pilkinton, who died from a railroad accident, leaving one son, Joseph Roy Pinkleton. Tennie later remarried into the Pearson family and had more children
Sarah Elizabeth (named after my g-grandmother Sara Etta, John Willie's mom//dt)
Mary Lee (P.A.'s ancestor)
Willie Geneva.
---