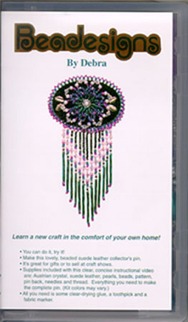 Make this 2-Dimensional flower brooch with this instructional video bead kit. All items needed to finish this beautiful Brooch are included with the video. The finished piece is of heirloom quality and tested true as a bazaar and gift shop item.
It's exciting to see how you can use different sized beads to create different sized flowers. You can also mix them for different effects and highlights in coloring!

The 1996 Telly Awards Finalist, "Beadesigns Video" provides a well-rounded foundation for beginners and gives the advanced beader another tool to add to his/her repertoire.
This is fun and easy! Try it!