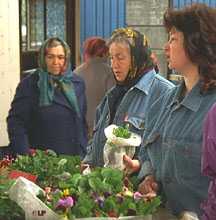 Khabarovsk, a city of more than 600,000, is second only to Vladivostok in size in the Russian Far East. While winter is only beginning to loosen its hold on Magadan, to the north, spring had clearly arrived in Khabarovsk in early May.

Shrubs were flowering around one of the city's main squares and potted plants including pansies were on sale in a street market. For those who didn't want to buy flowers, there were plenty of potatoes, as well as fresh fish -- Khabarovsk overlooks the Amur River -- and even pineapples and bananas.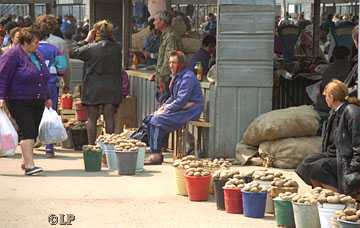 Khabarovsk is close to the border with China and is almost directly east of Harbin. It is the last major stop on the Siberian railroad before Vladivostok.
Stations from China and Hong Kong as well as the local and Moscow channels can be picked up on Khabarovsk television.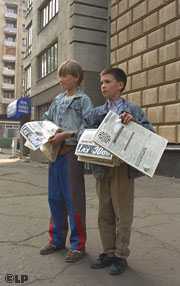 Two newsboys peddled their papers on a street corner, right. The big news in early May was the rapidly approaching Russian election.
Khabarovsk appeared to a visitor this spring as a cosmopolitan city. While American visitors had attracted attention in Magadan two years before, they were accepted more matter-of-factly here.
Two American women, below, visited with three babushki. Conversations with Russians indicated continuing economic troubles -- some are going months without getting their salaries paid -- but there were also some indications that things may be improving. Apartment blocks were under construction, stores seemed well stocked ... and there was that bustling street market.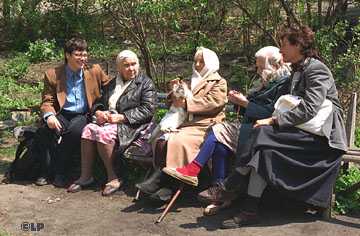 Khabarovsk Scenes provides additional glimpses of the city today and its memorial to the Great Patriotic War.
More information about Khabarovsk
is provided at a web site in the region.