Aleckson's Place
Last updated December 22, 2006
Authored by Scott Aleckson

---
Scott & Cyndi
July 30, 2000

---
Non-BP Ejection Charges!
The smokeless powder testing has resumed and entered a new phase. A new technique using expendable components is being tested and has worked just as well as the aluminum ejection wells in initial bench tests. The "expendable" part is standard .223 Rem (5.56mm NATO) fired brass casings that you can scrounge up at any shooting range for free. The basic concept is to drill out the primer pocket to accomodate the e-match wires and hot glue it in place just like it was documented with the aluminum ejection wells. Instead of using a separate "burst diaphragm" for containment, the powder is held in place with some wadding and the neck of the case is crimped flat with a pair of pliers. The pressure must build to the point where it will spread the crimp to allow the gasses to escape. The use of small caliber rifle brass prevents fragmentation while allowing for an easily obtained and expendable container. Work on documenting these techniques continues. An updated report will be posted on this website as soon as possible. Once something more "final" is ready, it will be submitted to Sport Rocketry and notice posted to RMR. A face lift and reorganizaiton of this website is also underway, so bookmark this homepage and not the individual pages contained on the rest of the site.

A new non-BP possibility has entered the market recently and a few initial tests have been very promising about a DIRECT Black Powder replacement that doesn't require special containment measures. The product is the new Hodgden Triple Seven muzzleloading propellant (see www.hodgdon.com) that is listed as a "non smokeless powder" for direct BP replacement. After reviewing several good reports about this stuff used in firearms, I picked up some to try out (in both my muzzleloader and for a few ejection tests). I made up a half-dozen 1cc charges using various standard methods (wrapped up in plastic bag, sluminum foil, paper, etc). I placed one out on the ground and pushed the button on the attached launch controller. To my delight, it went "bang" just like a BP charge would. A second try did the same thing, so I pulled out the pressure test chamber and fired off 4 more charges in it. They all produced pressures in the range of 60 psi, very similar to that produced by the same volume of Black Powder. There are still a number of tests that need to be conducted and I do have some worries about ignition reliability. Those should easily be overcome by using a good pyrogen coating on your e-matches as opposed to a simple nichrome wire or conductive primer. I think I'll pick up a can of Goex Clean Shot powder and run the same tests. It may produce similar if not better results. Stand by for additional results.


Smokeless Powder Ejection Charges
See the Preliminary Report here (3/10/2002)


My rocket project for the
Phillips 66 TV Commercial
Video clip still available...
Construction Info
Magnetic Apogee Sensor Project
Schematic using the Honeywell HMC1001 chip...
Article and schematic as posted to RMR
Although still under construction, part of the new construction report is posted.
updated magnetic sensor report under construction

---


This site is best viewed with Netscape Communicator. Download Netscape Now!

---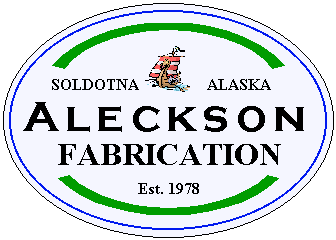 Aleckson Fabrication


What does Aleckson Fabrication do?
We make custom steel and aluminum products.
Boats, trailers, structural snowmachine repairs, snowmobile and ATV sleds and trailers, custom brackets for practically everything including structural plates for building construction. Services include design, fabrication, repair, welding, milling, and lathe work on steel and aluminum with over 22 years of experience in Alaska.


Visit the Aleckson Fabrication Website!


---
---