Alaska Pathways your adventure travel planning specialist brings you two exciting new itineraries for 1999!
A 14 day odyssey to Fiji with secret rivers and a remote island paradise.
"Paradise Found" 14 Day/13 Night Itinerary. Only 4 spaces left for our 1999 March departure!
Our 7 day Copper River Rafting Adventure takes place in the Wrangell St. Elias National Park and goes from Chitna to Cordova, Alaska. This "Writing in the Wilderness" adventure departs June 5, 1999 and currently has 8 remaining spaces.
For reservations please send me an email or fax your request to 907 653-1959. No experience is required.

We also have some terrific volcano trekking and rafting adventures in Kamchatka, known for its friendly people and hot springs and world class sport fishing in the Russian Far East.

Tasmania Australia - Explore off the beaten path Tasmania, the island state. Whitewater rafting, hiking, beaches! Paddle the free flowing Franklin River and hike the remote shores of the Southern Ocean from a tent basecamp. Includes Freycinet National Park. Four-star accommodations, local wines and fresh seafood are part of this down-under adventure.
March 1999 15 days from $2750 per person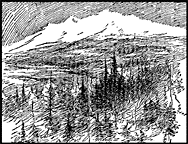 Basecamp Trekking Extraordinaire - A new six day (6) adventure that includes trekking on the open tundra and ridges of the Talkeetna Mountains, southeast of Denali National Park and exploring glaciers and exciting terrain in the Alaska Range, gateway to Lake Clark National Park. Includes paddling in small inflatables among icebergs and on a crystal clear lake. Watch for caribou and bear. If you love to hike this spectacular wilderness adventure is for you. Includes overnight at local Bed & Breakfast in Talkeetna, the real Northern Exposure.
July 19-24/September 6 - 11, 1998 6 days/5 nights $1825 per person
Stay tuned for specials and exciting new adventures. Donít see what you are looking for? Please send us an email and let us know how we can help you plan an adventure of a lifetime.

Home | Alaska Adventures | Australia | Meetings & Conventions | About Us | Booking Information | What's New

© Alaska Pathways 1998. P.O. Box 111111 - Anchorage, AK 99511 USA
E-mail - akpath@alaska.net - Fax (907) 653-1959