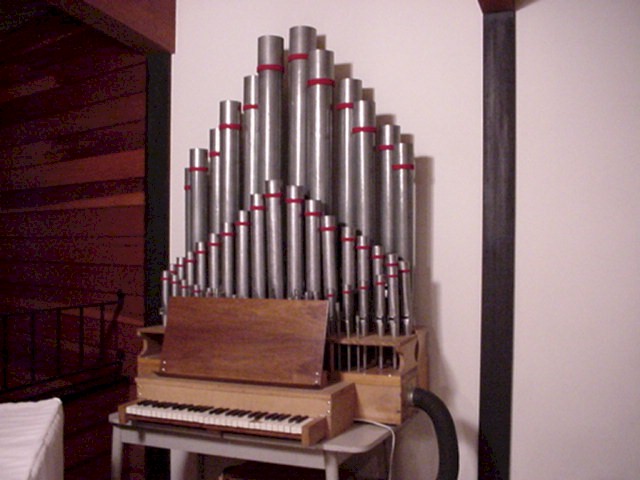 St Mark Lutheran Church, Anchorage, Alaska
Portativ - designed and built by Roy Helms of Anchorage, Alaska
Comments below by Bob Schmidt
As of this writing (April, 2000), little is known of the background of this Portativ organ, supposedly designed and built by Roy Helms of Anchorage, Alaska.
As has been related to me, it was constructed in the mid-70's as a demonstration of what a pipe organ would, or could, sound like in St Mark Lutheran Church. Ultimately, the St Mark congregation decided to have a pipe organ built for their sanctuary (1983) and the Kenneth Jones Tracker is the result.
Subsequently, the Helms Portativ has made the rounds of several Anchorage churches. In addition, it has been used by various performing arts ensembles - most notably the Anchorage Festival of Music and the Alaska Chamber Singers. It sat in storage for several years in a garage until January 2000 when St Mark was approached to see if they wanted the instrument. The response was an immediate "yes"! The instrument now sits in St Mark's balcony.
The short-term plan is to find out the true story (and wanderings) of this wonderful little instrument, and then put those facts on this page. Longer term plans call for re-housing the instrument in custom-made case and to use it for various liturgical and recital purposes.
If any reader has more information on this instrument, please contact Bob Schmidt (click on his name).