St Mark Lutheran Church, Anchorage, Alaska
Kenneth Jones Tracker Organ - 1983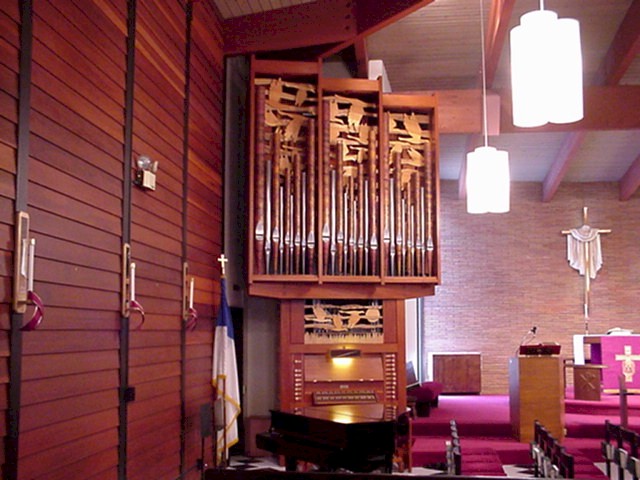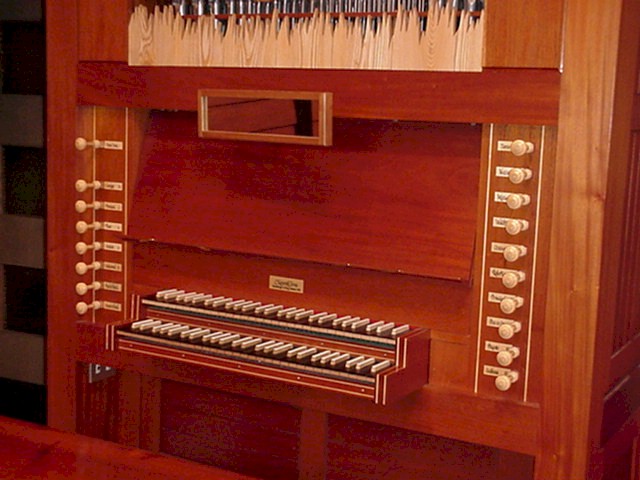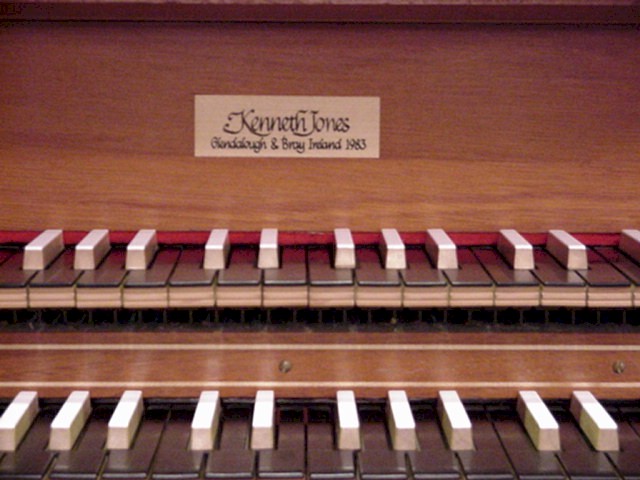 The Kenneth Jones Tracker Organ at St Mark Lutheran Church
2003 marks the 20th anniversary of the installation of the
Kenneth Jones Tracker Organ
in the
Sanctuary of St Mark Lutheran Church
The Classical, tracker-action pipe organ, was specifically designed for the St Mark sanctuary by Master Organ designer, Kenneth Jones, of Kenneth Jones Pipe Organs Ltd., of Bray, Ireland. Its 14 stops and 17 ranks are well-suited to the size of the sanctuary, being calculated to give maximum sound without excess. It is sited diagonally in order to afford sound waves the longest path possible. The casework steps down toward the right to direct the eye toward the focal point of our worship, the altar and cross.
The casework, of solid Brazilian mahogany naturally finished and hand-rubbed, is 17'4" tall, just 2" shorter than the beam it is attached to as an earthquake precaution. Incidentally, it survived its first strong earthquake while under construction with its designer-builder situated in its upper works and, needless to say, there is the proverbial tool lost somewhere in the works without which no great project is complete!
The pipe display features both polished tin and mottled brown, flamed-copper pipes aesthetically placed for light and dark values. There are 868 pipes, all speaking, and the range in size from the 16' subbass -- really an 8-footer capped to sound like a 16-footer -- to the tiniest pipe which has a speaking voice of 3/8" encased in an 8" tin pipe for easier handling.
The two manuals have ebony-plated naturals and ivory-capped sharps. This reversal of color is in the European tradition. The pedal board, a Kenneth Jones modification of the standard set by the American Guild of Organists, is engineered to place each pedal the minimum distance possible from the central position of the organist.
As a concession to modernity, an electric blower operates the windchest providing the necessary wind for each pipe. No longer is it necessary for a strong person to provide the handwork needed to furnish air.
Despite modifications, the principals of the tracker pipe organ are essentially the same as the first produced in Switzerland in the 14th Century which is still being played. The mechanical action tracker endures over long periods of time with only minimal repairs.
The purpose of this organ is to enhance the worship of the members of the St Mark congregation, to support congregational singing of liturgy and hymns, and to enrich worship through special music, choir accompaniment and as a solo instrument. Through its organists, it will reflect the joys and sorrows of this congregation with the dignity inherent in the Lutheran tradition.
Specifications:
Great Organ
1. Principal: 8' in display, 5 bass common with Rohrflute, of flamed copper -- 51 pipes total
2. Rohrflute: 8' 12 mahogany, 44 or 25% tin -- 56
3. Octove: 4' 56 of 50% tin -- 56
4. Nazard: 2-2/3' 56 of 25% tin -- 56
5. Waldflute: 2' 56 of 25% tin -- 56
6. Tierce: 1-3/5' 56 of 25% tin -- 56
7. Mixture Tremulant: 2' III-IV 206 of 50% tin -- 206
Positive Organ
8. Gedeckt: 8' 12 mahogany, 44 of 25% tin -- 56
9. Salicional: 8' Bass No. 8 44 of 50% tin --44
10. Flute: 4' 56 of 25% tin -- 56
11. Principal: 2' 56 of 50% tin -- 56
12. Larigot: 1-1/3' 56 of 25% tin -- 56
Pedal Organ
13. Subbass: 16' of mahogany -- 30
14. Flagotto: 16' of copper -- 30
Couplers
Positive to great
Positive to pedal
Great to pedal
Total: 856 pipes
---