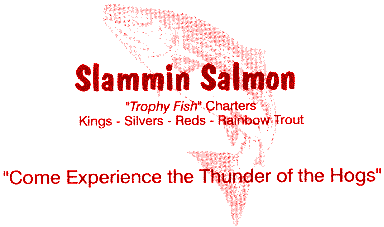 Gary "Slammin" Hull

Contact Gary by Email (slammin@alaska.net) or call 907-262-5661 and let him be your fishing guide and companion on the Kenai and Kasilof Rivers for great fishing adventures. His years of experience will be your advantage while you enjoy world class "Slammin" fishing. He even wrote a book titled Secrets of the Guides on the subject!

If you're looking for someone that can not only be your guide but also teach you how to fish these waters, you'll find Gary's love of this sport and the outdoors has given him insights unmatched by others - and he's always willing to share that knowledge!
A Special Note From Gary "Slammin" Hull...
Hi. I'm Gary "Slammin"Hull, owner /operator of Slammin Salmon Charters and Far North Outfitters. I would just like to take a little of your time to tell you why I believe you will see higher success by fishing an all-day package, versus a half-day.
After 10 years of guiding for Salmon I have learned that there is one time of the day that will produce a better bite. Sometimes it's morning. Sometimes it's afternoon. Regardless of when the bite is on, you want to be there when it happens. With all-day trips everybody gets to fish an incoming tide, which is when the fish commonly enter the river. You will not feel so pressured to keep the first fish you hook up with, since you are allowed only one fish a day ion the Kenai River. If fishing is tough, you will have more opportunity to hook upon that monster hog you came so far to find. I know you more than double your chances with an all-day trip.
So if you would like to fish with me, Gary "Slammin" Hull, please call me at (907) 262-5661 or Email your phone number and I'll call you. I'm offering a day of fishing with lodging for $250.00 per person, or $200.00 per person without lodging. If you travel all the way up to Alaska don't cut your opportunity by more than Half just to save a dime. Spend the day with me, Gary "Slammin" Hull, the guy who wrote the book, and experience the thunder of the hogs.


P.S. Half day trips by special arrangement may be scheduled upon request
---
We offer a special for the serious fisherman; 5 full days of fishing and 7 nights lodging for just $1350.00! We will work with you to make this fishing package custom tailored to fit your dream fishing vacation.

Charter Rates - Per Person:
KING or SILVER SALMON:
Kenai River
$200. for all day trip
KING or SILVER / HALIBUT COMBO:
5 full days of King Fishing and
1 day of Halibut Fishing with 7 nights lodging
$1,550.
We will provide you with all the fishing gear you'll need or bring along your own rod and reel. Don't forget the following items: Alaska fishing license and King Stamp, rain gear, warm cloths (jacket, gloves, hat, long underwear), sunglasses, camera, some snack foods, sun lotion and medications if applicable. Space is limited so make it compact. Our average summer temperature is 62 degrees and the river is cool.
Reservations:
If your browser supports forms - Use Our On-Line Reservation Form
Because space is limited we strongly recommend advance reservations. A 50% deposit of the total price of the fishing trip is due in order to confirm reservations. Bookings will be canceled if the deposit is not received within 15 days. One-half of deposit may be refundable on cancellations, provided we are notified at least 15 days prior to the reserved dates. We cannot be held responsible for the loss or damage of any personal items or held responsible for any emergency closures by the Alaska Department of Fish and Game or the Alaska Department of State Parks.
Bookings fill up fast so we suggest you contact Gary by Email: slammin@alaska.net
or call: 907-262-5661 to make your reservations soon.
You can even Fax us at 907-262-8865
Of course we accept VISA and MASTERCARD!

SLAMMIN SALMON CHARTERS
PO Box 1964
Soldotna, Alaska 99669
If your browser supports forms - Use Our On-Line Reservation Form
---
Far North Outfitters
Great Alaskan Hunting Adventures...
If you would also like information about the wonderful Alaskan hunting adventures available we can help you with that also! Check out Gary's Far North Outfitters page. Alaskan hunting at it's best!
---
We have had


Visitors to this page!
---
WEB Page Design and Code Copyright © 1998
Please report technical problems to: webmaster@primedata.net