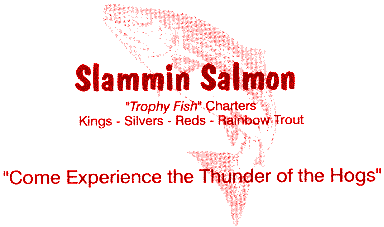 Gary "Slammin" Hull

Fishing Guide and teacher can now send you this booklet which he wrote drawing from years of experience as an Alaskan Fishing Guide. His tips, tricks and techniques are part of the "secrets" professional guides use to catch the big fish in the waters of the Kenai Peninsula.

Reading through this 24 page booklet before making your way north for the lunkers will give you an edge that usually comes from years of professional fishing experience. To get your copy, contact Gary by Email (slammin@alaska.net) or call 907-262-5661 . For only $5.00 (US Funds - Bank Check, Money Order, VISA or MasterCard) Gary will mail you this guide right away. This is indeed a good investment if you want to understand how to catch these fine fighting fish on a consistent basis.

After you read this fantastic booklet, come join Gary as he guides you to the best spots to use your new found fishing "Secrets of the Guides"!




Fax, Call or Mail-in Your Order:
SLAMMIN SALMON CHARTERS
PO Box 1964
Soldotna, Alaska 99669
Booklets are available in quantity discount orders
please contact Gary by Email: slammin@alaska.net
(DO NOT Email your credit card number!)
or call: 907-262-5661 for details and orders.

Use your VISA or MASTERCARD to order your copy!

You can Fax your order to: 907-262-8865
---
We have had


Visitors to this page!
---
WEB Page Design and Code Copyright © 1998
Please report technical problems to: webmaster@primedata.net