Far North Outfitters

Contact Far North Outfitters and let professional hunting guide, Gary "Slammin" Hull be your personal hunting guide, companion and instructor in the art of predator calling. He has many years of experience and it will be to your advantage as you seek out your world class trophy!

What you should know: Most guided hunts in Alaska are offered at a flat rate fee. For example; a Brown Bear hunt runs from $8,000 to $12,000 depending on the area and guide you choose. To our knowledge, the least expensive Wolf hunt is $4,000 for one wolf. These flat rates are charged whether or not you are successful in taking any game.

Far North Outfitters is offering hunts at a flat rate for the hunt, plus additional trophy fees if your hunt is successful. The fee for a ten day hunt is only $4,000. If you succeed in taking game, the following fees will be charged:



Brown Bear: $3,500. · Black Bear: $ 500.
Any Add. Wolf $ 150.




There is no trophy fee for the first wolf taken, and no trophy fee for any wolverine taken. This is a fantastic offer for any sportsmen looking for a quality hunt at a fair price.

If your browser supports forms
You Can Use Our On-Line Reservation Form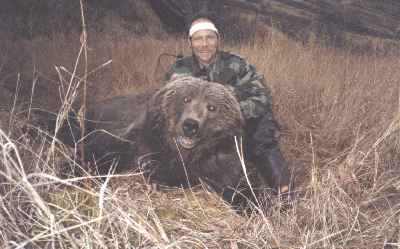 Don't miss out on the Alaskan hunting opportunity of a lifetime.

Gary "Slammin" Hull has years of Alaska hunting knowledge and abilities to insure a quality hunt you'll remember as your best hunting adventure - one that very few sportsmen ever get to experience.

Reservations:

Just give us a call and we'll help you plan your hunt. Brown Bear, Black Bear, Wolf and Wolverine trips can be planned according to your trophy dreams. Because time and space is limited we strongly recommend advance planning.

If you need it, we will help you find accommodations and guided fishing trips while you are here for your guided trophy hunt!

If you're only interested in wolf hunts, mid-February through March are the best months. We also have spring hunts in April and May. Wolf can be taken in April and the cost is the same regardless of the time of year.


---
Far North Outfitters
PO Box 1964
Soldotna, Alaska 99669
Because reservations fill up fast...
We suggest you contact us by Email: slammin@alaska.net
Call: 907-262-5661 or Fax: 907-262-8865
If your browser supports forms
You Can Use Our On-Line Reservation Form
We accept VISA and MASTERCARD!
---
Slammin Salmon Guide Service
Great "Slammin" Salmon Fishing on the Kenai Peninsula...


If you would also like information about fishing adventures on the Kenai Peninsula we can help you with that also! Check out Gary's Slammin Salmon Guide Service page.
---
TOP OF PAGE
We have had


Visitors to this page!
---
WEB Page Design and Code Copyright © 1998
Please report technical problems to: webmaster@primedata.net

fish Kenai Peninsula Alaska hunting bear bears wolf hunting guides adventures alaska alaskan hunts outfitters out fitter fitters hunting guide