ALASKAN DIVE SPOTS

Alaska Undewater Adventures

HOMER
Homer, Alaska is a leisurely 4 to 5 hour drive south of Anchorage. It is a beautiful small town located on Kachemak Bay. The Homer "Spit" is where most dive trips in Kachemak Bay start. The Spit is the largest natural spit in North America. There is usually good diving for dungeness crab during early and mid summer. The Ferry Dock is a good dive site, but usually has poor visibility and can have a great deal of current due to its location at the end of the Spit.
The other side of Kachemak Bay offers the best diving in Southcentral Alaska. Locations such as Tutka Bay, Jakolof Bay, Yukon Island, and Seldovia offer a great variety of sea life and dive topography. The only ways to get to this side of the Bay is by boat or the small airstrip in Seldovia.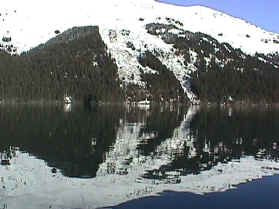 Tutka Bay

WHITTIER
Whittier was incorporated in 1969, but has been around since before World War II, when it was used as the closest deep sea and ice free port to Anchorage. It has a population of 182 full-time residents. It is located approximately 50 miles southeast of Anchorage.
Smitty's Cove is the easiest dive site to reach. Whittier has only a couple of miles of road. There is a concrete boat ramp that makes for easy entries and exits throughout the year. Across the bay lies the Kittywake rookery. A few miles out in Prince William Sound you will find incredible diving at Paulson Cove, Coulross Passage and the Dutch Group.

SEWARD
Seward, Alaska is a 2 hour drive south of Anchorage. There are several spots to dive in Seward itself, but the best diving is located further out in Resurrection Bay. Spots to dive in Seward include Lowell Point, the Ballfield, and the Seward Sea Life Center. Conditions vary greatly from 60 feet of visibility all the way down to nothing.
Fox Island is 8 miles out from Seward. The easiest accessible wreck in Southcentral Alaska is located on the leeward side of the island, where it is protected from wind and rough seas. At low tide, the superstructure is just several feet below the surface, while the bottom rests in about 90 feet of water. There are also many other nice dive sites nearby, such as Humpy Cove, Boulder City, and Mary's Rock. Several miles farther out, Barwell Island offers some of the best diving in Resurrection Bay.


©1997-2012 Alaska Underwater Adventures, LLC