World Class Fishing!
Call 1-800-725-3327 today
for Special Package Prices .....

Kenai & Kasilof River Alaska
Kachemak Bay, Resurrection Bay and Cook Inlet
Fish For: King Salmon, Halibut, Rainbow Trout,
Silver Salmon, Dolly Varden

Our fishing guides owe their success to an average of 20 years experience fishing local waters. They are year-round Alaskan residents, USCG licensed, insured, and experts in telling tall tales. We have top quality equipment. Rods by Lamiglass, Sage, and G-Loomis. Reels by Shimano and Penn. The river boats are all 20' welded aluminum sleds and drift boats, powered with quiet Yamaha four stroke outboards, and are meticulously cleaned every day.

This catamaran, named the Shearwater, is Marlows on the Kenaiís newest addition to our fleet of boats. Neilís 36 x 14 foot catamaran is specially designed for fishing, birding, sightseeing and photography trips on Resurrection Bay. The high speed cat is capable of 35 to 40 knots, and gives the fastest, smoothest ride of any boat in that general size category. It has a fishing deck or observation area at the rear of 13í6Ē square and features a complete walk around for fishing, birding, wildlife viewing and photography. The enclosed spacious cabin is equally large and has plenty of room and seating for all along with a galley and head. Call Neil directly in Seward at 907-

362-1800

or contact us here on the Kenai River at 1-800-325-3327 ( out of state) or 907-262-5218 (in state) and we can arrange a special trip for you.

King Salmon
The Kenai River is world famous for producing trophy King salmon. The world record was taken in May of 1985 weighing 97 lbs. 4 oz. Every year sees thousands of kings weighing between 30 and 80, even 90 lbs. Their fighting strength has to be felt to be believed, and those that have battled these monsters have memories that last a lifetime. We have two runs of Kings entering the local rivers and fishing is typically best late May to mid June and the last half of July. Methods for taking Kings include back bouncing, back trolling, and drifting.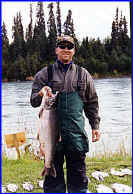 Sockeye Salmon
a.k.a. Red salmon, average 6-12 lbs. and most of its muscle. These salmon begin to clog the Kenai River in late June and the run ends in mid August. New regulations aimed at protecting these salmon allow nearly one million sockeye to return to the river every summer. Since the Sockeye tend to hug the bank, most fishing is done from the shore. Methods include casting cohoe flies in a style found only on the Kenai River, knowledgeable guides, persistence and a little luck.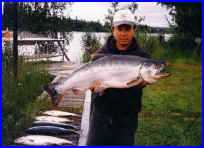 Silver Salmon
Three words: acrobatic tackle busters. These fighters are notorious for burning up drags and snapping rods. Silvers average 10-14 lbs., with lunkers nearing 20 lbs. Season begins in early August and ends September 30. Methods include casting spinners, back bouncing, and back trolling. Ask about the Seward Silver Salmon Derby- this salt water fishery is in mid-August, has a six fish limit, non-stop action, and takes place in beautiful Resurrection Bay.
Pink Salmon
Returning in even numbered years in late July through August, Pinks are the single most aggressive salmon that returns to the Kenai. Their sheer numbers and willingness to strike anything shiny makes them a favorite with kids, novice fishermen, and anyone who fishes for the thrill of the catch. Best when taken fresh from the salt water, Pinks have a delicate white flesh that looses its texture rapidly once they enter fresh water. Caught by casting spinners and spoons.
Rainbow Trout
A trip to the Kenai River is not complete without a trout fishing trip. While some sections of the river are fly-fishing only-Rainbow Trout trophy areas, Rainbows are plentiful throughout the river. Last season saw plenty of Rainbows caught and released off our private riverbank between 7 and 14 lbs., and as many smaller Rainbows and Dolly Varden as you had the patience to catch. We provide our guests with trout gear for fishing in front of their cabins.
Halibut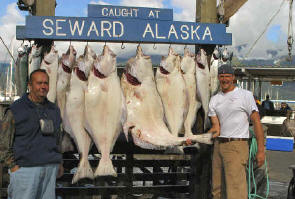 Pacific Halibut: Both sides of the Kenai Peninsula are home to some of the finest halibut fishing known to man. Limits of halibut weighing between 20 and 50 lbs. are the norm, with halibut between 100 and 300 lbs. coming in daily. Charters leave from Ninilchik, Homer, and Seward, with every port having its unique advantages: boat size, trip length, travel time, and scenery. We will take you on a halibut trip that matches your specific needs and interests. Combination trips fishing for King salmon and Halibut are our most popular saltwater trip. Halibut fishing runs from May through September with King-halibut combos having the greatest catch rates in June.
Fly-out fishing
The quintessential Alaskan Fishing experience. Float planes give access to Alaska's most remote areas. Compete for the prime fishing holes with brown bears. Run timing varies from that of our local rivers. All fly-outs are weather dependent. We book your fly-outs early in your vacation so you can reschedule when possible.
Lake Fishing
The Kenai Peninsula has many lakes... I lost count at 300,000. Almost all have native species of Rainbow Trout, or Dolly Varden, or Lake Trout, or Grayling, or Northern Pike, , or Arctic Char, etc... Your computer would not have enough memory to download the wealth of local knowledge learned in a lifetime of fishing Alaska, so give us a call and let us lead you to the perfect wilderness fishing experience.
Link To Fish & Game Run Timing
Seward, Alaska Fishing Derby Video
(After clicking the link above, look for the "VIDEO" Link.)