Alaska Birding Tours
Wildlife Viewing, Photography
Customized Ecotours
TOLL FREE: 1-800-725-3327
We bird the entire Kenai Peninsula and provide pelagic birding tours on the eastern side of the peninsula out of Resurrection Bay in Seward. Our trips are by vehicle, hikes, canoe, kayaks, powerboats and drift boats. We offer backyard birding to pelagic trips. Small group birding trips to Nome can be added to the Kenai Peninsula outings and customized to fit what the group is looking for in an Alaskan adventure.
Our most popular pelagic birding trip is on Resurrection Bay out of Seward. Our daughter Leanne and her husband Dan operate The Seward House, providing you with ocean view suites. On these personalized trips, expect to see thousands of seabirds including horned and tufted puffins, thick billed and common murres, shearwaters, black oyster catchers, auklets, murrelets, kittiwakes, red faced cormorants, bald eagles and many more species. Whales, sea otter, sea lions, and porpoises are usually seen on these trips as well.
Click Here For More Alaska Birding, Wildlife, and Scenery Photos

Our birding trips by drift

boat pass through remote stretches of the Alaskan wilderness

. We usually see 30 to 50 or more species of birds as well as a wide variety of other wildlife on a delightful, relaxing, quiet drift boat trip through a remote stretch of the Kenai River.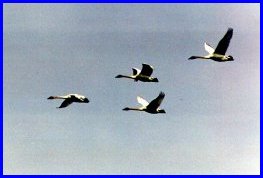 Click here for a complete listing of birds
on the Kenai and our letter to birders.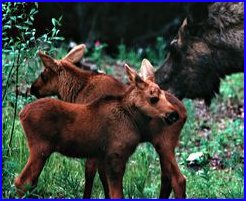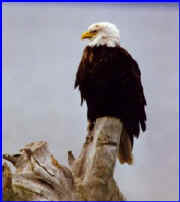 Wildlife viewing opportunities abound. You'll have the pleasure of seeing moose at nearly every turn, eagles soaring overhead and bays and inlets teeming with life.
We look forward to seeing you on the Kenai Peninsula, Alaska's vacationland.

The Marlows

This trip can even be combined with fishing. The opportunities are endless because whatever your passion for the outdoors, we have it here on the Kenai Peninsula.
Birding Links:
Birding Forum - The Net's Largest Birding Community Dedicated To Wild Birds
http://www.birdforum.net/showthread.php?t=21213
Birding Trip To Nome, Alaska
http://www.camacdonald.com/birding/Hotspots/Alaska2001/nome.html

Alaska Department of Fish & Game's Creamer's Field Migratory Waterfowl Refuge:
http://www.state.ak.us/local/akpages/FISH.GAME/wildlife/region3/refuge3/creamers.htm
A to Z for Birders
http://www.a2z4birders.com/birds
Kenai National Wildlife Refuge:
http://www.npwrc.usgs.gov/resource/othrdata/chekbird/r7/kenai.htm

ABA American Birding Association:
http://www.americanbirding.org/

Excellent bird photo gallery:
http://camacdonald.com/birding/DesJardin/index.htm

World wide birding and lots of information:
http://www.camacdonald.com/birding/birding.htm

Project FeederWatch:
http://birds.cornell.edu/PFW

Cornell Lab of Ornithology:
1-800-843-2473 feederwatch information

Homer Shorebird Festival:
http://www.homeralaska.org/shorebird.htm

Alaska Birdhouse Construction:
http://www.state.ak.us/local/akpages/FISH.GAME/wildlife/geninfo/birds/birdhaus.htm

Alaska Bird Observatory including bird quiz:
http://www.alaskabird.org/
USGS Patuxent Wildlife Research Center
http://www.pwrc.usgs.gov/default.htm
Birding Site by two Danish birders and brothers, Ulrik and Christian Svane.
http://www.travellingbirder.com/
For more information or reservations contact:
MARLOW'S ON THE KENAI



P.O. Box 2465 P
Soldotna, AK 99669
907-262-5218
E-mail:marlows@alaska.net
Outside of Alaska
Call Toll Free 1-800-725-3327