Owned and operated by a rare and endangered species: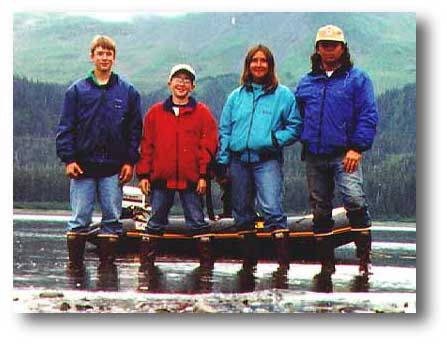 the "year-around Alaskan family"
Humpback Whales, Orca Whales, Sea Lions, Puffins, Eagles, and Glaciers!

| | |
| --- | --- |
| | All this, and the best World class Halibut & Salmon sportfishing available, aboard our very fast vessels KraKaDawn, a 35' USCG certified diesel, or AWOL, a 28' diesel. |
ONE-DAY TRIP
for 1 to 8 persons,
from 7: 00 am to 7:00 pm


Included:
Coffee and rolls, custom fishing gear, bait, and all the opinionated advice you can stand. Fish cleaning not included, see my wench ( wife, for all of you without humor) for arrangements.

Prince William Sound
Remote Long Range Tours



Fishing, sightseeing, setting shrimp pots, beachcombing...

If you can dream it, we can do it. If you can't, we can take you to a rare remote world we love, and would enjoy showing it to you.

Overnight Trip:
Basic trip: 1 to 6 persons, 1-3 days (1-2 nights)
You bring the food for your party, and your own sleeping gear. Skiff available for beachcombing. With your help cleaning the boat upon return, we can keep the price down.
On the overnight trips we can go places, and experience prime spots, few others can access. See tidewater glaciers no one else tours, and see Humpback and Orca Whales in more abundance than anywhere else in the Sound!
Deluxe Overnight Trip:
Bring your own sleeping gear. All food will be provided, and we'll take care of everything else.
All Overnight trips are boat price only. No hard luggage please. Fish cleaning available, just see my wife. Overnights on KraKaDawn only.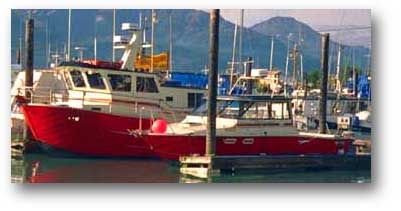 The Charter Vessels:
AWOL (day use only):
28' X 10' cruiser,
Single diesel
5/6 people maximum
KraKaDawn (day use, or overnight):
35' x 12' USCG certified,
Twin diesels, 840 hp total
Sleeping accommodations are "Alaskan Bunk House:" 4 double bunks and 1 single.
This vessel was custom built for us, to our design, for Alaskan waters.
8 people maximum on fishing trips
6 people maximum on overnight trips
10 to 12 people maximum on day sightseeing trips.
Both vessels are very fast ,with KraKaDawn being the fastest certified vessel in Prince William Sound.
Both vessels have the latest in electronics:
Radar, VHS radio, Satellite Global Positioning System, color Sounders, EPIRB.
---
GOODHAND CHARTERS
Owned and operated by year-around Alaskan family Captain John Goodhand & Family Talon, Cole, Karyn Ellingson
Location (summer): Office & Home: the "Eagles Nest" Slip D-14
KraKaDawn Slip D-12 AWOL Slip D-10
SUMMER: P.O. BOX 970, VALDEZ, ALASKA 99686
(907) 835-4333, (800) 808-4333, Fax: (907) 835-4385
WINTER: P.O. BOX 218, ESTER, ALASKA 99725
(907) 479-5562, (800) 240-5562, Fax: (907) 479-0395
e-mail: glaciers@alaska.net
References:
Valdez Chamber of Commerce, (907) 835-2330
Valdez Convention and Visitor Bureau, (907) 835-2984

©97 John Goodhand 2/97