VIEWPOINT LODGE
---
Discover a real Alaskan way of life, and Alaskan hospitality. As your flight departs from Anchorage, see the beautiful city unfold below and watch as Sleeping Lady Mountain becomes closer. During the summer months, your pilot will fly along the shoreline of Cook Inlet to look for Beluga Whales as we head to the lodge. On extremely clear days, Mount McKinley, and the volcanoes can be seen immediately after takeoff giving a splendid example of how the Alaska Range of mountains slices through the Great State of Alaska. Continuing towards Flathorn Lake, look below for moose, bear, and swans as your pilot/guide explains the geology and history of the area. After landing at Viewpoint Lodge, you will be greeted by the Spickler family; Jim, Diane and their twin daughters Amy and Rachel. You can enjoy a walk on the sandy beach, or have the twins take you on a 4-wheeler ATV adventure on the Iditarod Trail to look for booties from the Iditarod mushers dogs, and wander through some rugged trails in the woods surrounding the beautiful Flathorn Lake. A canoe is available, as well, for those that want to paddle around the lake, and explore on your own for moose or bear, or just get away from the lodge.



SNOW MACHINE RIDES IN THE WINTER



Take a day, afternoon, or an evening to go Pike fishing with Jim, a retired Air Force officer, or take a few hours to go hiking on the trails that extend around the lake area. At night, enjoy a hearty home cooked meal and then relax in an outdoor hot tub. Let the Spickler family whisk you away from all the stresses of daily life with their gracious hospitality, and a relaxing time that you will never forget. (No extra charge for Jim's tall tales).

Be sure to look for the Glass Outhouse" overlooking the lake, and yes, you have some privacy should you wish to "try it out".


---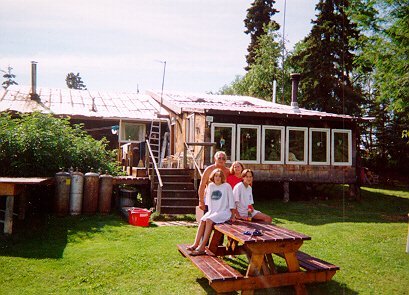 Here's the Spickler Family in front of Viewpoint Lodge

---
Complete your getaway with a scenic flight to Mt. McKinley on either the flight to the lodge, or on the return to Anchorage and see Denali, "The Great One". Truly the highlight of your vacation to the Far North.


---
E-Mail us at flybai@alaska.net,


Home | Prince William Sound | Mt. McKinley | Knik Glacier | Combo | Wildlife | Fishing
Cabin | Safari | Iditarod | Mountain Bike | Viewpoint Lodge | Bush Airventures | Current Price List