Miller's Landing Cabin
On Flathorn Lake
---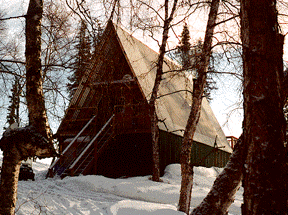 Here is a winter view of the A-Frame cabin
---
Enjoy the peace and serenity of a picturesque A-Frame cabin on a quiet lake in the Bush area of the far north. At the cabin you can enjoy paddling a canoe around the lake for the abundant Pike fishing that abounds in the lake, or for the more adventurous fisherman you can rent the boat and motor for day trips to fish for Salmon and venture up the Big Susitna and Alexander Creek. King Salmon and Red Salmon abound in the rivers and streams in the Spring and Summer months, Silver Salmon in the Fall; Trout and Dolly Varden throughout the year. With the jet-pump motor, you won't have any problems in the shallow areas of the rivers.

Returning to the cabin in the evenings you will find your surroundings both warm and comfortable as you relax on the deck overlooking the lake with perhaps a steak or roast, or even some fresh caught Pike or Salmon on the barbecue grill.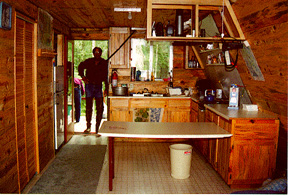 ---
At the cabin you will find a well supplied kitchen with gas stove, refrigerator, sinks and cooking supplies and utensils. If the weather is damp and cool, you might enjoy a cheery fire in the wood stove. In the bathroom, you will find the toilet and shower immaculately clean and comfortable without the pesky mosquitos that occupy the outdoor facilities of most other rustic accommodations. In the evening, you can relax on the couch in the living area to the evening news on TV, as solar panels provide electricity for the lights and television, and a backup generator is available for special uses. Water is available from a fresh water spring just a short distance from the cabin for cooking and drinking. Lake water is recommended for the toilet and shower.

The cabin sleeps four comfortably, but can accommodate more if the need arises. A large loft is available upstairs for two to four persons as needed. Sleeping pads are available in the loft. The couch in the living area is a hide-a-bed that is more than comfortable for two persons.


---
E-Mail us at flybai@alaska.net,


Home | Prince William Sound | Mt. McKinley | Knik Glacier | Combo | Wildlife | Fishing
Cabin | Safari | Iditarod | Mountain Bike | Viewpoint Lodge | Bush Airventures | Current Price List