Portage Glacier may be hard to see but it's much easier to see where it has been. In the last few years the glacier face has begun retreating from the lake it created. A small section in the center has exposed bedrock but much of the glacier face is still in the water and extends down more than 100 feet into Portage Lake. Portage Glacier is still considered a valley glacier. Nearby are several "hanging glaciers," that is glaciers that come part way down a mountainside. Glaciers that reach the sea are called tidewater glaciers and glaciers that end in lakes are also called -- yes, freshwater glaciers.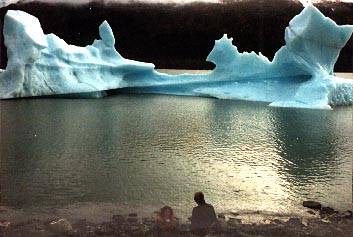 The first stop at Portage Glacier should be the Begich-Boggs Visitor Center, which contains a number of exhibits as well as a highly recommended film about glaciers: "Voices From the Ice."
A walk along the shore of the lake to see icebergs up close may be the next stop. To see the glacier though, it's necessary to drive further along the lake to a sightseeing boat dock and buy a ticket for a cruise through the lake that takes visitors close to the glacier face. The boat may bump along through patches of icebergs but, unlike Titanic, it can handle them.
A parking lot about halfway between the Visitors Center and the boat dock is at the head of a trail leading to another glacier, Byron Glacier. A healthy hike takes visitors to a glacier they can climb on.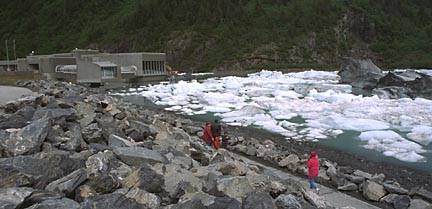 View of the Begich-Boggs Visitors Center
---