!-page by Larry Pearson, lpearson@pobox.alaska.net->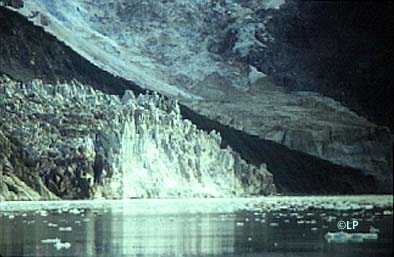 The park's glaciers
More than 40 glaciers descend from the Harding Icefield. Those that reach the ocean are called tidewater glaciers; those that descend only partway down mountain slopes are called hanging glaciers.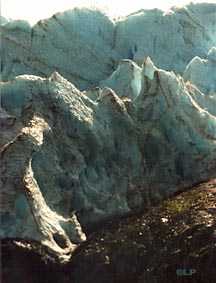 The dark stripe visible in the glacier near the bottom of this page is pulverized rock pushed up between converging glaciers.

Exit Glacier, at right, can be reached by turning off the Seward Highway at Milepost 3.7 and following a gravel road several miles to a parking lot. Trails from the parking lot lead to the face of the glacier. The Harding Icefield can be reached in an all-day hike from the base of Exit Glacier.

Facilities at Exit Glacier include a picnic ground and campground as well as a public use cabin that is open only during the winter. The cabin is accessible only by ski, dog sled or snowmachine. Information about reserving it can be obtained from Elsie, at 907-224-3175 Mondays through Fridays.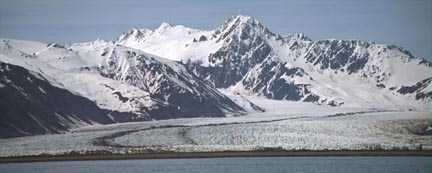 About the park.
Enter the virtual version of the park.


---
Photos &copy 1996 & 1997 by Larry Pearson, all rights reserved

Inquiries about advertising on the Kenai Fjords National Park pages
should be e-mailed to design@alaska.net