!-page by Larry Pearson, lpearson@pobox.alaska.net->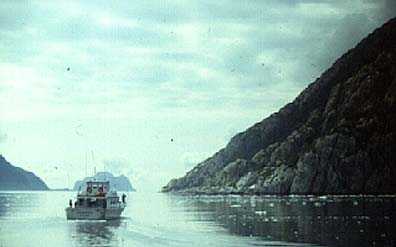 Ice floes from a nearby tidewater glacier dot the water's surface near a tour boat.
Inside the Park
There are no roads through Kenai Fjords National Park, reducing the choices for those wanting to see it to tour boats, charter cruises, flightseeing or serious hiking. One of its glaciers, Exit Glacier just north of Seward, is easily approachable by road. Trails from a parking lot allow visitors to hike up to the face of the glacier.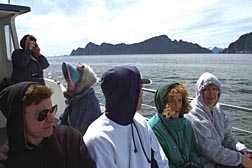 The tour boats have enclosed cabins but the best views are from the decks. That means dressing warmly even in mid-summer as the passengers in the photo at right have. It's often rainy, too, so waterproof clothing is a good idea. The cruises are rewarding, however, even on rainy days as the view below of a tidewater glacier suggests.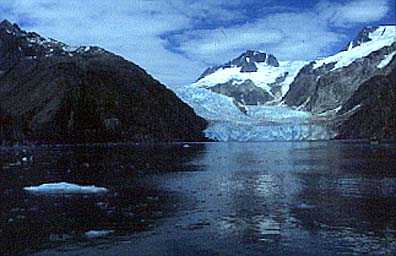 A close approach to the glacier gives passengers a chance to see it calving icebergs and perhaps to see a seal or two resting on ice floes.
Glaciers in the park.
About the park.
---
Photos &copy 1996 & 1997 by Larry Pearson, all rights reserved

Inquiries about the Kenai Fjords National Park pages
should be e-mailed to design@alaska.net