Back to Northern Riders BMW Club Home Page
So you are planning a trip to Alaska! Here's some frequently asked questions and suggestions.

Places to Visit.
There are too many to list! For places to see and places to stay, we highly recommend that you pick up the latest copy of "The Milepost," a trip planner. It will tell you everything, and much more, about everywhere you may want to plan out out your trip.
However, we also suggest to folks that they pick up local info at the visitor centers as they travel or off their websites. We found that while the Milepost gives good info on gas stops but lists only a portion of the accomodations and restaurants (as well as local attractions). The visitor centers throughout BC, Yukon and Alaska provided more "on the spot" info.

RV Parks and Campgrounds. For those that like to tent, check out http://www.gocampingamerica.com/directory/alaska.html
Give yourself extra time !!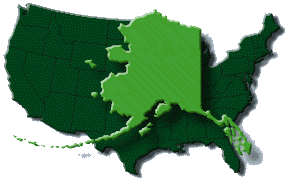 http://www.yachtalaska.com/photos/maps/ASA_usa_alaska.jpg

As Alaska is many times bigger than Texas, the best tip (beyond the Milepost) that we can give you is to keep in mind in planning your trip that it most likely will take you a lot longer to get anywhere, so plan accordingly. That maps that show you Alaska just off the coast of California simply doesn't reflect the true size of Alaska, which actually would spread out from California to New York if overlaid in actual size (see and click on map)! To see how far it is between cities, check out this cool "How far Is It?" link! http://www.indo.com/cgi-bin/dist


We see so many people flying down the road because they are so far behind, or come in extremely worn out. As a result, they end up not seeing a lot of anything, and their trip ends up being a grueling blur. Don't forget to go to our website to check up-to-date road conditions and scheduled construction and factor those into your plans. Another excellent source for Alaska road and much more information about Alaska, check out http://www.usroadconditions.com/ak.shtml

Also see "Road Conditions" below
Alternate Travel Consideration

Don't forget one way to travel to Alaska and back or as a way to get a large "Round Trip" consider the Alaska Marine Highway Ferry

When's the best time to travel to Alaska?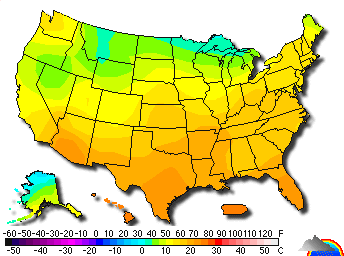 Late April through mid July is the best time. Once you push pass mid July, it starts to get rainy. and much soggier as time goes on. September in Alaska is pushing the limits. You could easily run into snow on your way back down the ALCAN, or just plain very cold, soggy grey weather. Not a great way to enjoy a trip. We would highly recommend getting here no later than mid August. An excellent place to check is this website, http://weatherlook.net/ak.shtml It has current Weather, Road, and Farmer Almanac that may help with the current year weather forecast information and other links to check out.
What if I want to Ship My Motorcycle?
There are several good ones to pick from. Many use Pacific Alaska Freight Forwarders. The website is http://www.pafak.com/.

Club member Biill Croft writes:

Best bet (and one I've used for years) is Pacific Alaska Freight Forwarders. They have an office in Anchorage and a terminal down by the port in Seattle.
They will pick up from just about anywhere for a charge but it's always been a reasonable charge (i.e. pick up in Portland for about $100 extra over you taking it to them in Seattle) I guess I've moved 25-30 bikes over the years and they never scratched a thing. They do require that you crate the bike but will accept a crate that one of the dealers took delivery of a new bike in.

From: "The Motorcycle Shop Inc." <tmsi@gci.net>
Subject: Re: motorcycle shipping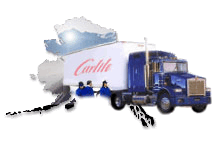 The shipping Company we use is K&W or Carlisle Transportation Services . We can help arrange shipping to anywhere in the U.S. There are many options for a person to use. *KGM Assemblers in Seattle can crate motorcycles for shipping and deliver them to K&W / Carlisle. In Anchorage we can Crate and Ship Motorcycles also. Serious inquiries can be forwarded to The Motorcycle Shop
Inc at tmsi@gci.net I will respond to all serious requests.

Michael Maines

*KGM Assemblers 8040 S 192nd St Kent, WA 98032-1130 206-251-6228

How about Motorcycle Rentals?
Yes, we have an excellent motorcycle rental company called Alaska Motorcycle Adventures It is cost effective if your visit is less than 2 or 3 weeks. No paperwork, crating, or shipping hassles. Also great for people who do not have several weeks of vacation time to spend riding up and down Alaska Highway.

"Imagine a new R1150GS Adventure delivered to your hotel the morning after
your arrival!"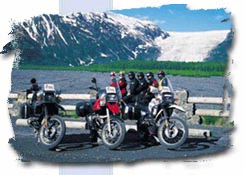 Contact Alaska Motorcycle Adventures
BMW Rentals and Edelweiss Guided Tours
www.RentAlaska.com

What to Wear and Bring
No matter what time of year it is, we highly recommend layering your clothes, and most important of all electric vests and grips. It will make a huge difference in level of comfort and even prevent life threatening conditions. As you may know, you can get winter like weather on some stretches of the ALCAN even in the middle of summer, so it can be hit or miss to run into a flurry or two . Stay away from cotton. Do wear polypropylene under clothes. These items will make your trip so much more enjoyable, and does make a difference in how you will feel by the end of the day (especially the electric vest).

Good raingear. Make sure it is large enough to put your thickest layering under without binding. Cool Tip: For those that use the pull over rubber "Totes", do you hate how hard they are to take on and off? Do this, get two small plastic bags like you get for groceries. put one over your boot or shoe, then pull on your rubber tote. It will amaze you how it will take little or no effort to get those rubber booties on and off!





Also buy good mosquito bug dope or spray, and mosquito netting to put over your head. The swarms can get pretty thick in some remote areas. Avoid the twin engine versions that like to pick up unsuspecting riders and carry them back to their nests!

Good patch or tire plug gun and a way to refill the tire (CO2, hand pump, etc.). A good kit is the Stop & Go sets. Check out http://www.stopngo.com/motorcycle.asp for a good discription and photos of these products. For excellent information on repairing flats with these kits or other methods, check out http://www.ibmwr.org/otech/tireplug.html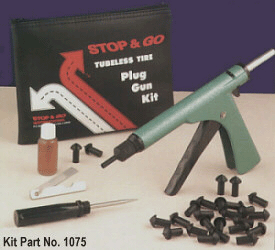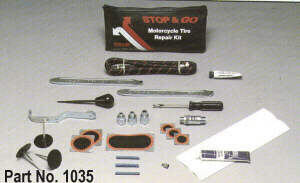 Extra fuel filter (add one if not already one in the fuel line).

Headlight protection and extra bulb Aeroflow has some excellent headlight covers that can save that headlight from being shattered. Go to http://www.aeroflowscreens.com/

Lots of film or extra memory cards for a camera (and batteries)!

Can I get Parts and Service in Alaska?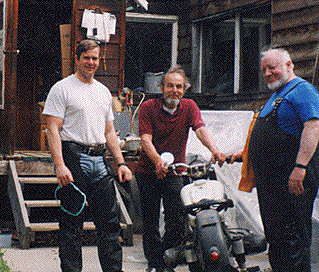 Yes, there are two BMW dealers in Alaska, one located in Fairbanks and the other in Anchorage. If you are looking to have them service your motorcycle, we recommend that you make arraingements with them in advance for service and parts such as the tires you want ordered and reserved for you, as they become extremely busy during our 4 month riding season. Otherwise, you may find yourself down for several more days than you planned for.
Road Conditions

Construction zones are longer and more torn up than in the lower 48. Construction zones are dirt/dust/or slippery when wet. . Also, we also have links to up-to-date road conditions and scheduled construction in Canada and Alaska.

The basic Alcan highway from Dawson Creek BC to Tok Alaska is easy even on a bike. Except for construction areas it's paved and is a smooth wide highway. Most of the original Alcan has been straightened and redone to cut through hills instead of to wind around them. The northern end, north of Whitehorse Yukon is most likely to have areas under construction, under improvement they might say. Whitehorse to Tok is basically 400 miles of construction or frost heaves

There are several western routes ... one through Washington, Vancouver, Kamloops, and Prince George rather than through Montana, Lethbridge, Calgary, and Edmonton, that's a good route and it will put you in less populated areas sooner. The traffic in both the US & Canada around Vancouver is to be avoided if possible.

The other western route that might be taken is the Cassiar highway through western BC to Watson Lake, many folks' recommendation would be to avoid it on a street bike especially two up. Those on GS or PD's still would have to be vigilant. As the Milepost will tell you, large portions of the Cassiar are unpaved.

Experience has shown that with unpaved roads is that they are very variable depending on the Weather. During rainy periods besides being slick you can't see the holes when they are full of water. During dry periods dust can be a problem. We've seen it so thick you can't get within 1/4 to 1/2 mile of a truck because you just can't see anything, much less the road. When you are catching up to a truck like that you can just hang back, but when one passes you unexpectedly you will be blind for a minute or two. Sometimes the highway will be built up a long way above 'ground level', and riding off the edge might mean you wouldn't be found for a long time.

Large Animals

Be very careful to watch for and avoid large animals in the road. Large is the operative word here. Moose hair does not reflect light. Your first indication is the shadows being cast on the road by their legs. You think "What are those people doing on the road this time of night?" to suddenly realize that those aren't people! If you have a choice, go behind the moose, where they were, not where they are going. If you do end up hitting the moose, the rear end is much lighter than the huge front end and rack

Last Frontier Rally!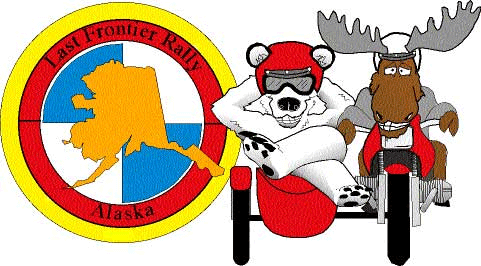 We find that the driest time to visit up here is around early June to mid July. After that, it starts to get more overcast, cooler and soggy. That's the reason we hold our Last Frontier Rally the 1st weekend after the 4th of July. Obviously if you plan it right, you could attend our Last Frontier Rally on July 11th and 12th for a good time, door prizes, awards, and it makes for a nice break in the trip to meet a bunch of fellow Beemers from all over the world. It should go on your "Must Do and See List"! Our website has more details and registration form if you would like to join us.


Back to Northern Riders Home Page