BMW Dealers, Motorcycle Rentals & Tours
---

Back to Northern Riders BMW Club Home Page
Alaska Motorcycle Adventures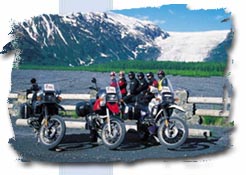 Motorcycle Rental or Guided Tours
For those that would like to simply drop in and rent a BMW motorcycle to explore Alaska, contact
Alaska Motorcycle Adventures.

Want a guided tour? Ride one of their motorcycles through Edelweiss Bike Travel!

Phone: (907) 376-4513

Email: information@rentalaska.com


Become a Facebook Fan - "Alaska Motorcycles Adventures"

Website http://www.RentAlaska.com
---

Back to Northern Riders BMW Club Home Page
Trails End BMW Motorcycle Shop
in Fairbanks Alaska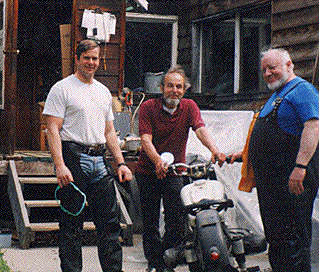 Chuck Blaney, George Rahn, and Kurt Schreiber
If you get anywhere near Fairbanks Alaska, and you need parts and service (or a new or used motorcycle) go see George Rahn at Trails End BMW Motorcycle Shop. This is the most unusual BMW Dealership in the world. You will not be disappointed with George or his shop!
Trails End BMW
PO Box 80754
Fairbanks Alaska 99708
Voice (907)-479-2367

---

Back to Northern Riders BMW Club Home Page
The Motorcycle Shop in Anchorage Alaska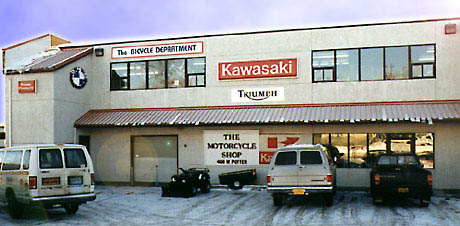 Owned by Don Rosene, the Motorycle Shop at 400 W. Potter Dr. is located in the middle of Anchorage. Call 561-1165 or go to www.themotorcycleshop.com for more information.
Top of Page