Christmas Party Full of Chinese?

This year's annual christmas party was held on December 13th at Lynette's brand new house in South Anchorage. What a great time was had by all. Lynette and Jeff Walker graciously opened the doors of their new home to welcome fellow club members. Lynette's home showcased her selection of musical instruments and Jeff's sport trophies with the home's high vaulted ceilings. Throughout their home, the Walker's decorated with Lynette's favorite village, Christmas in the City. As you walked around, you discovered different vignettes in all kinds of neat places. The city christmas spirit was definitely in the air!

The party was well attended by the club knowing that a wonderful selection of food be available. This year's party was no exception with Lynette having prepared a delicious honey baked ham. As was requested by a number of club members, Sean was asked to bring his family recipe for sweet potatoes. Along with those selection were other goodies provided by fellow club members including Pat Gordon's deviled eggs, Peg & whiz's spinach dip as well as a homemade soup prepared by Bev to name a few. No one went home hungry that was for sure!

Once everyone grabbed a bite to eat a brief club meeting began in the main living room. Sean opened up the meeting with a welcome and an announcement about the upcoming club schedule. The club has a busy but fun and active winter schedule this year. You can read more about the meeting from Rosemary's notes. Rosemary then made the announcement that Judith Price, Ms. Lit Town of Dept 56, would be retiring at the end of the year.

With the formalites out the way, the christmas magic was about to begin! Or did I say chinese christmas magic? As was planned, Club members were to bring a gift for the 2nd annual gift exchange. However, this was no ordinary exchange! What ensued was a chinese auction exchange! Everyone who wished to participate was to place a gift in the center of the room. Each club member then drew a number out of a hat. To start, Pat Gordon drew number one and started off by selecting a gift of their choice. Starting with person two, the fun began! Club member two could decide to take the gift from club member one or pick a new. However, no gift could change hands more than three times. Peg lost three gifts but Whiz managed to get back the one she really wanted. Sean lost three boxes so on his third try he decided to try a gift bag in hopes of keeping it. In the end, Pat Gordon was number one so she stole Rosemary's gift as the last exchange. Fun was had by all and there was a lot of laughing and joking going on. As you might expect, there was a great deal of gift exchanging as each new present was revealed one at a time! A number of popular gifts included the snowflake street lights, glass mirror skating ponds and a couple of Christmas in the City retired pieces! Jeff and Lynette made it a family affair with the fun as there son Dane participated as well. Everyone loved this way to exchange village gift items and it has become an annual event at the Christmas party!

As the afternoon drew to a close, the club held one final event, a silent auction to help raise club funds for future activities. There was some competitive bidding going on between members for a Dept 56 silver pitcher, Christmas fences, German ornament, Snow Village nativity, CIC fire station and a Night Before Christmas Ornament. A total of $77 was raised in the auction and all of it was put into the club treasury.

A great deal of fun and excitement was enjoyed by everyone who attended the party. Warm friends were on hand, a fun way to exchange gifts added excitement and great food was enjoyed by all. The Arctic 56 club would like to thank Jeff and Lynette Walker for opening up their new home to the our club party. Happy Holidays!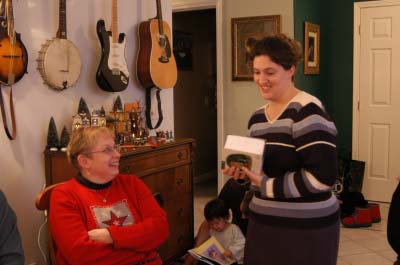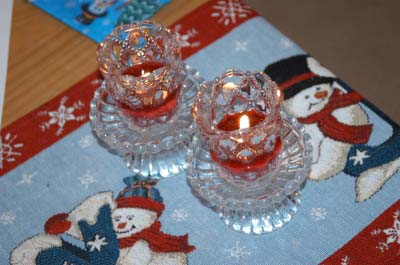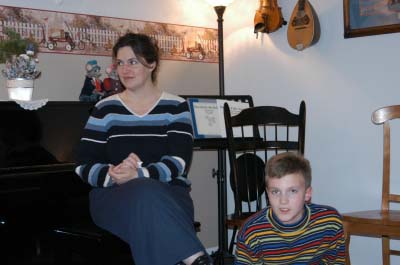 Lynette with her son, Dane.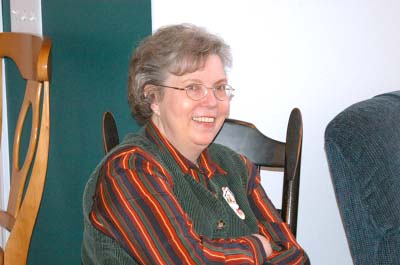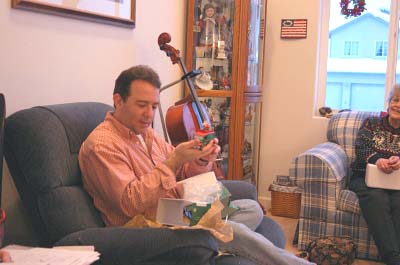 Can Sean hold onto this one?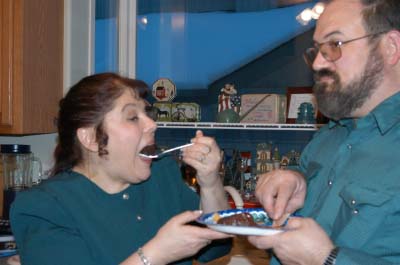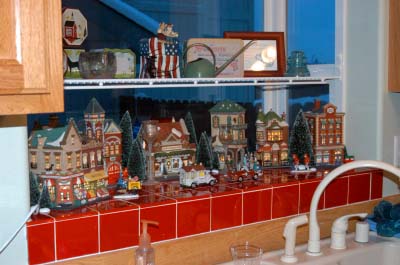 More of Lynette's vignettes in the kitchen.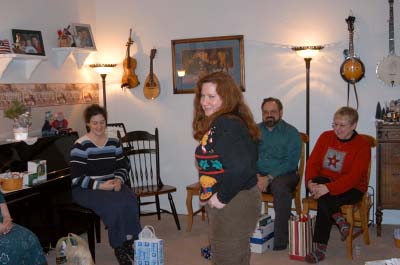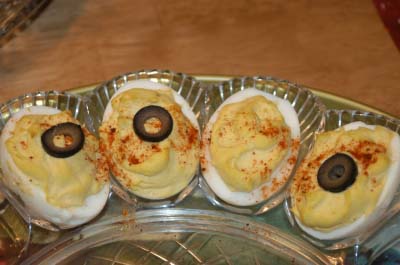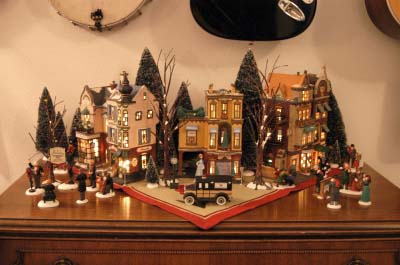 A city vignette by Lynette!