Club Recognized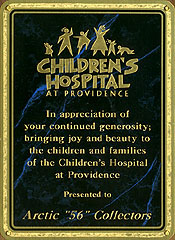 May 2001

Member since 1994
Camaraderie is what its all about!

Thank you for your interest with Arctic 56 Collector's Club in Anchorage, Alaska. Founded approximately 10 years ago by current & past club members, the Arctic 56 Collector's Club strives to provide a forum for people interested in village house collecting. The Anchorage based club provides Alaskan collectors an opportunity to learn more about this exciting collecting interest, create camaraderie with those who enjoy this artistic hobby and offer an avenue to channel members talents back to the community.

Joining the Arctic 56 Collector's Club is a great way to get inside information about village collecting. Opportunities from exclusive merchandise to preferred service at local retailers to village design ideas are some of the uniques offerings from club membership. Club meetings are held throughout the year and provide a way for collector's to meet other people, enjoy the social aspects of village collecting and enjoy great food and fun at the gatherings. In addition, the Arctic 56 club offers an avenue to challenge members creativity by establishing a club village at Providence's Childrens Hospital for the holiday season. This magical display delights local children who are undergoing treatment for various health conditions. It is a great feeling to know that the club's creative talent is providing joy to others during the holiday season.

Arctic 56 joined the National Council of Clubs in May of 1994 and offers collector's an opportunity to exchange ideas with other collector's across the country gain insight with Department 56 directly.


Arctic 56 is always looking for new members! Membership provides you a host of benefits. They include:

exclusive merchandise opportunities (special building, pins, etc.)
creative resources from other club members
exclusive information about upcoming events
exclusive information about village collecting
design ideas and information
network opportunities with other collector's
social events, potlucks and more

To join the Arctic 56 Club is easy! Just fill out the form to the right, attach payment for the membership dues and mail the application to:

&nbsp&nbsp&nbsp&nbsp&nbsp&nbsp&nbsp&nbsp&nbspArctic 56
&nbsp&nbsp&nbsp&nbsp&nbsp&nbsp&nbsp&nbsp&nbspP.O.Box 100114
&nbsp&nbsp&nbsp&nbsp&nbsp&nbsp&nbsp&nbsp&nbspAnchorage, Alaska 99510-0114

Or you can send us an email providing us with the information that is shown on the application and come to the next meeting. You can also check our schedule for the next club meeting and just bring application & dues. It is simple and easy. We welcome new members, so join today and take full advantage of what club membership has to offer!