The Wonderful Holiday Tour
by Ruth Buerkle

It was no mere "Department 56 Holiday Tour"! It was a Tour de Force! Puccini and the Tenors! A Lollapalooza of a weekend!! Even the weather was perfect!

Department 56 celebrated its seventh year of Holiday Tours when we arrived Thursday, December 12, 2002. Melinda Seegers, our planner extraordinaire, sent informative little notes, airline tickets and travel plans well in advance, making arrangements for each winner and guest. A few folks arranged to stay beyond the weekend and were responsible for their extra days. Grace won when her ticket was drawn at N.E.V.E., and I was luckily her guest.

Nine winners, each with a guest, flew to Minneapolis and were greeted at the airport by Melinda who gathered us up one by one and whisked us to the Double Tree Hotel in Bloomington, MN, right across the street from - gasp!! -- the Mall of America!! Tom Iacoviello who lived nearby was limousined from his Minneapolis home to the hotel. Judith Price welcomed us in the lobby with coffee and comfortable chairs while luggage was sent to our rooms. At 5 o'clock we met in a third floor suite for an hour's informal discussion with the new Senior Vice-President Marketing, Nasir Wajihuddin, and several of his staff. Melinda arranged for Bill Shadid, Director of Village Marketing to give us orange and black Department 56 pens for note taking as we nibbled on little pastries and offered thoughts on why we collect our villages and how we describe them to non-villagers. MaryAnne Cossentine offered some interesting comments, and later Keith Gulley was found in deep discussion with the marketing folks, -- probably passing along some of his ideas and those from his e-groups compatriots. Following hors d'oeuvres and a delicious dinner with CEO Susan Engel welcoming us, we retired to our rooms to unpack. There, glowing in the mirror in the darkened room was the new Radio City Music Hall building, --- a gift to each of the winners, along with a huge basket of fruit and goodies dressed in yards of cellophane, and a handsome, black Department 56 travel bag filled to the brim with gifts for both winners and their guests.

Friday morning breakfast was casual, allowing time between seven and eight-thirty to eat, visit and be in the lobby for our custom motor coach departure at nine. First, a pleasant drive along the outskirts of the city viewing beautiful homes and the frozen Lake of the Isles being readied for ice skating. The Mary Tyler Moore Show house, no longer white, was painted a mustard color, and the Governor's Mansion, while imposing, sat alongside other imposing homes as though one of the crowd. Melinda and Judith were with us, and joined our guided tour through the Minneapolis Institute of Art, viewing five periods of Christmas celebrations, --beautifully done! This culturally vibrant city vies with New York pound for pound for richness in theater and art and diversity of culture. We took lots of photos, and then it was off to Basil's in the downtown Minneapolis IDS building overlooking the Crystal Court for a private dining room luncheon with wine and all the trimmings.

After changing to more formal attire, we motored to the Department 56 Showroom at One Village Place where the siren song of new villages was calling. What a treat, -- so many new village pieces, such fantastic gift line pieces! And when cameras were briefly set aside we found our place cards and enjoyed delicious dining at the large, white circular tables interspersed among displays of decorated Christmas trees and gorgeous trimming. Our many Department 56 hosts joined us, and we kept our delicate silver ball place card ornament as a memento of a beautiful evening. Following dinner we moved to an informal meeting room where creative director Rick Jackson shared the process of creating a building from the first thought of a design to the finished product. Sculptor Diane Edinger shared her expertise as did graphics designer Lisa Ecklund. Jackie Geiger was there to answer questions, and Melinda and Judith were perfect hosts as Melinda presented another gift to each of us, -- the new-logo Department 56 clock-plate. What an evening!!

Following breakfast Saturday morning, our bus took us across the highway to the Mall of America for a tour of the Department 56 store and shopping to our hearts' content. Each winner was presented a $56 shopping certificate, which included free shipping of everything purchased at the store, and everyone received an envelope to cover lunch wherever we chose to dine. After our earlier enormous breakfast, -- mine was used for shopping, not food! Paul and Joyce Anderson had a full shopping bag when we returned to the hotel.

We changed into evening clothes in late afternoon and boarded our coach for the historic Orpheum theater in downtown Minneapolis to attend the "Radio City Christmas Spectacular" starring the world famous Rockettes. Arriving at dusk, the beautifully restored theater formed a perfect setting for this magical event.

With a nippy 38 degrees outside, we motored to "Forepaugh's" in St. Paul for an elegant evening of dining. The restaurant, an 1870 Victorian home built by Joseph L. Forepaugh is on the National Register of Historic Places, and was recently restored to its former grandeur. Our cozy private dining room on the third floor allowed us to enjoy our waiter's tales of apparitions and hauntings, and each of us was presented with the CIC Rockette accessory, a special reminder of the evening. One final pleasure was the drive around the twin cities enroute to the hotel. Chuck Boyle, in cahoots with our driver, kept leaping off the bus at strategic points to take photographs, causing a mild disruption of traffic and a surprised honk from a police cruiser. We cheered him on while admiring Rice Park, dazzling in Christmas lights, and the Cathedral of St.Paul, a spectacular silhouette against the night sky. In return Chuck sent each of us a disk full of weekend photos, including Mary Boyle opening her special D56 gifts in the hotel -- a great photographic record of the gifts everyone received.

Sunday Brunch was catered in a private suite with the chef preparing each dish according to taste.. We said our farewells here, as everyone was packed and heading in different directions, and the fabulous weekend came to a close. Thank you Department 56 for a HolidayTour we'll never forget.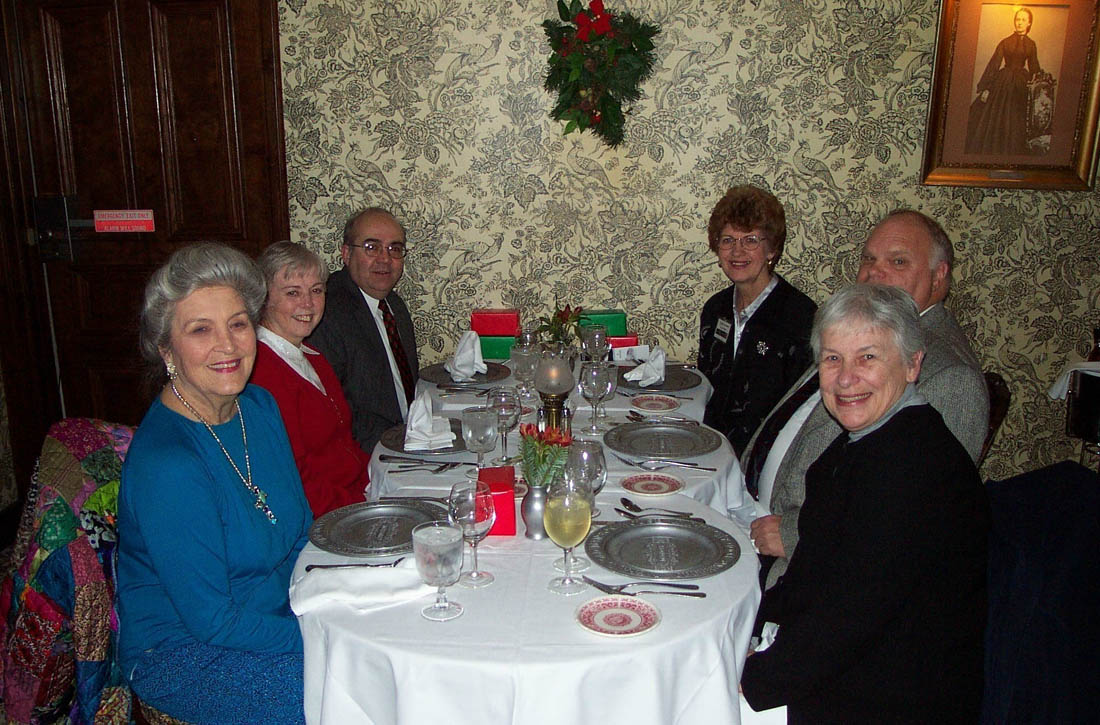 Dinner at Forpaugh's in St. Paul. Ruth Buerkle, Barbara and Keith Gulley of Queen City Villagers, Joyce and Paul Anderson of Ralston, NE, Judith Price, Ms Lit Town (One of three tables in our private dining room.)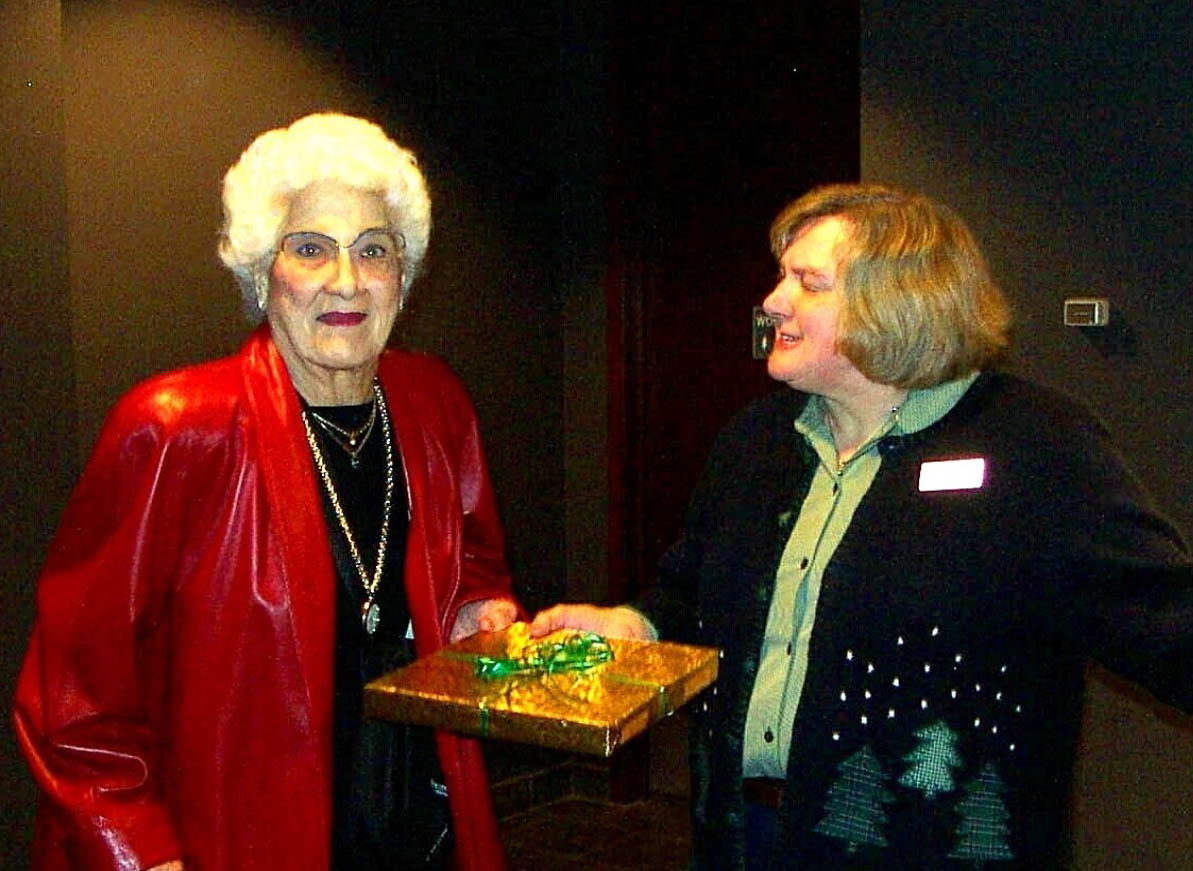 Grace Williamson at D56 dinner being presented with D56 clock-plate gift by Melinda Seegers, Collector Relations.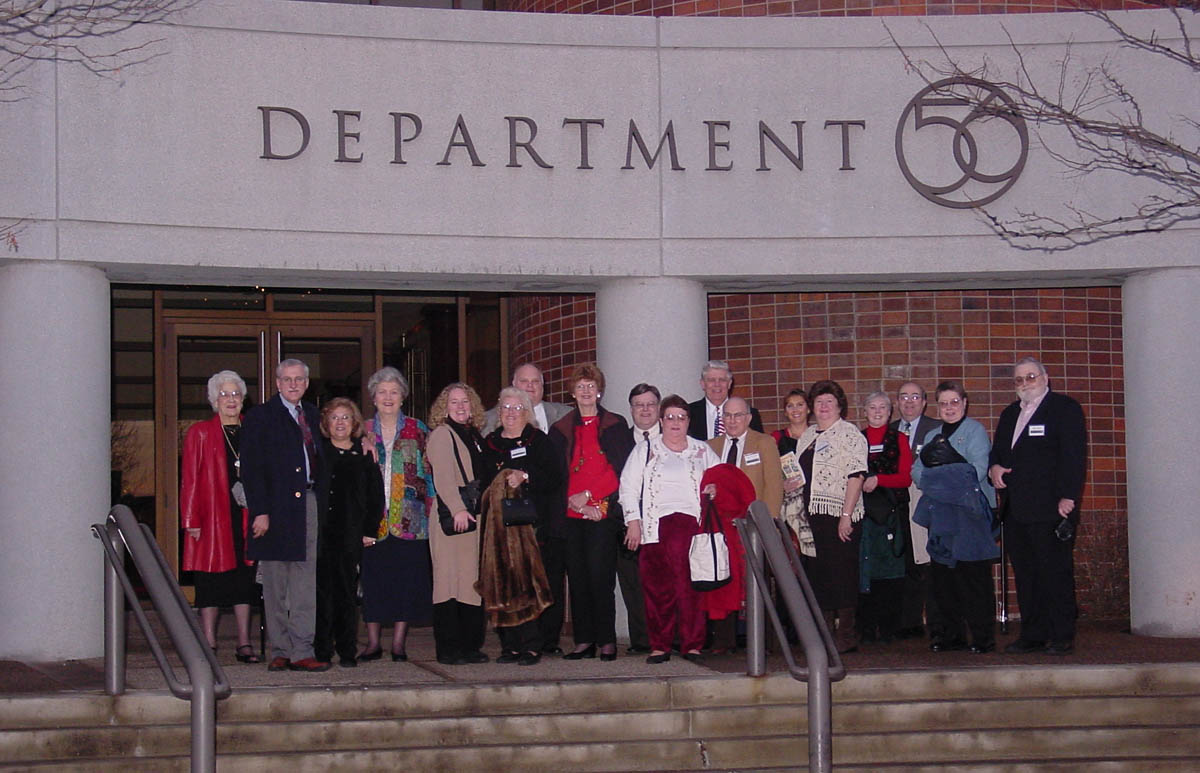 Nine winners and their nine guests in front of Department 56 Headquarters at One Village Place just before entering to tour the Show Room and have dinner. (L-R - Grace is on the end, Ruth is fourth to the right.)