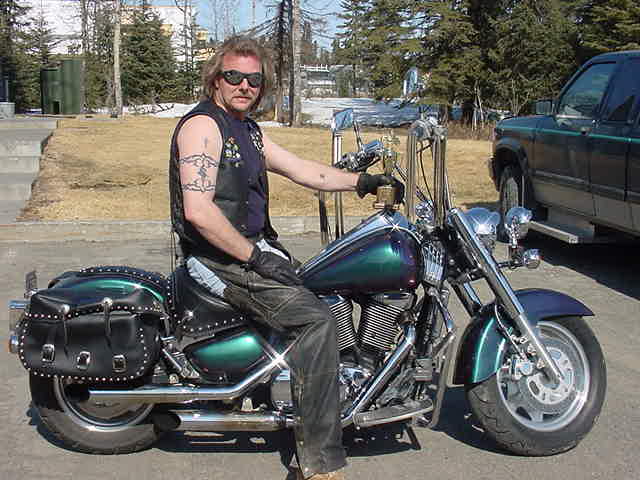 Who's this guy?????? Where do we find him?????
---
** Message from Ron**
Well every one it's been a helluva a ride hasn't it? Been through a lot of good times and hard times together. Spent days chasin the sun, and runnin in the rain. My job is taking me outside and I will most likely not be back to Alaska anytime soon. I wanted to let you know that it has been a blast runnin with you….partying with you...and getting to know you. Chuck you will forever have a place in my heart brother. Bill and Anna…well just remember the last time we were at the Clearwater Run. (if you can) Les, Carol, Tom, Della, Lannie, oh hell everybody, if your ever in Missoula Montana look me up. Won't be hard to find just look for the airport, and pick up the phone. Until we meet again, I hope the wind is always warm in your face, the sun shines on your ride and the thunder in the hills, as all the harmonics blend and crack the air, never looses it's beauty. I'll see you out there…you know...down the road...in the wind out there where we love to be more than any place else on earth
-Ron-
Y'know peanut, the guy with the big ass suzuki,
---
Gallery 2 - Historical?
For Some reason I can't get the pics for Gallery 2 to show up on the website. I'm still working on it! The rest of the galleries work tho.
Gallery 3 - Sturgis in Alaska 1999 (?) 2000 (?)
Gallery 4 - Members
Gallery 5 - Larry
Gallery 6 - Webtech's Pics