---
These pictures represent many generations of my family. I hope you enjoy them. Most are large in size and may take a few minutes to load.
... D. Sewell
My Family & Ancestors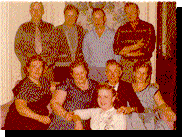 Nanninga family - Christmas 1954 in Odell
| | |
| --- | --- |
| Conrad Frederich Nanninga - My Father | My father & his identical twin Hank |
Daughters of Albert and Detje (Schlueter) Manhusen
Standing:
Fentje "Fannie", Grace, Janken "Jennie"
Seated:
My mother, Henrietta "Etta", Margaret.

My Great Grandmother Albers.
(Janken Janssen Schlueter Albers).

Maria Heikes Hieronimus Nanninga & Henry Nanninga
(My Grandparents).


Manhusen family in Pekin, IL about 1916
(Left to Right) Fannie, Henrietta, John, Albert, Detje, Jennie, Margaret, Alvah
| | |
| --- | --- |
| My Son | My Daughter |
Gravestone of Ayelt Reemts. My Great, Great, Great, Great Grandfather. Born about 1669. Died December 25, 1715. Location: Pilsum, Germany.
Windmill which is now a museum in Pewsum. The gravestone of Ayelt Reemts is on the far left side of the building on the wall.
---

E-mail:dsewell@alaska.net

---