Free Genealogy Networking

Welcome to the Alaska web-site of Ostfriesland genealogy networking. If you have already entered your information into the registry, thank you! If not, please click the Ostfriesland Guestbook now, or at the bottom of this page and enter your information. Information need only be entered once. It is my sincere hope to help us all find missing pieces of our family tree. Good luck with your research.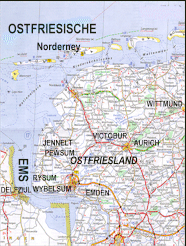 Ostfriesland is an area on the North Sea coast of Germany bordered on the west by the Ems River. All four of my grandparents were part of the great migration of immigrants from this land to America from 1850 to 1900. In some of the villages over half of the population left the home of their ancestors to face life in this new land, from which most were never to return. I have been curious about these grandparents and their lives since I was a youngster but, other than some fortunate questions to my parents I did not take the time to really learn about them. In 1991 I was forced to take a medical retirement from my career with the Municipality of Anchorage. As my health permitted I began to search for my heritage. The facts that I have learned and the people I have met during this research are the reason for this page.
My goal is to create a page for people with family trees that include branches from this small corner of the world to correspond with others of the same interest.
THE OSTFRIESLAND REGISTER IS NOW INSTALLED
Please leave your names in the register book that you can reach from the bottom of this page. After pressing the submit button you will be able to view the previous entries. Please do not leave commercial ads. This is for genealogy only.
Dorothy Nanninga Sewell.
My Favorite Links
FACTS and FUN
HISTORY

I am not a historian. In fact, until I started doing genealogy I really did not know or care much about history. What I am relating here is just a shortened version of many books and papers that I have run across while trying to get a grip on what cause my personal family to behave as they did. I certainly do not speak for everyone and I am not going to argue about accuracy. It is just my point of view and I'm more than willing to accept corrections and contributions in the form of enlightenment.
IN OSTFRIESLAND
Pilsum, Germany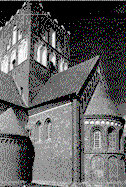 According to a article that I have called "A Short Survey of Friesian History by Bernard J. Fridsma, Sr.", the first recording of the Friesians was about 1,000 years ago when they were living on the coast of the North Sea between the Ems and Rhine Rivers. Where they came from is pretty foggy but that they started reclaiming the muddy land from the sea is evident. Eventually the country called Friesia covered the whole coast of what is now The Netherlands and Germany. For centuries they fought off invaders. Unfortunately when they weren't fighting with others they fought with each other over control. (Sound familiar?) Finally, after a series of name changes and being divided and re-divided between 1798 and 1810 under Napoleon, Friesia lost it's ancient name. It now remains only in the province (state?) of Friesia in the north west corner of The Netherlands and in our beloved Ostfriesland (East Friesia) in Germany.
IN THE USA
From 1850 to 1900 there was a mass immigration from this the Ostfriesland area of Germany due to war and wide spread hunger. It was a chance for the common man to improve his families lot in life. Most of this group settled in Illinois, Iowa, Kansas and Wisconsin. In some of the German villages over half of the population departed. The port of entry for a large percentage of the immigrants was New Orleans. They then traveled up the Mississippi River to the Heartland of America.

For the settlement of the farm country of Illinois timing was everything. Much of this area was sparsely settled because the land was wet, heavy black gumbo, covered with deep rooted prairie grass. It was impossible to plow without stopping every few feet to clean the blade. Then the curved "self cleaning" plow was invented and perforated tile was installed around the fields and the land rush was on. A far seeing man named Scully bought a huge portion of the land and paid the fare for families from his native land to come and be tenant farmers. Of course many paid their own way and worked in other jobs.

This was an industrious group and they did well in their new land. For many years they kept their old customs and spoke Low German so named for the low, flat terrain of their native land, reclaimed from the North Sea. Then came WW1 and to be German was shameful in America. Everyone was anxious to appear patriotic so much of our heritage was lost. The few that appeared too loyal to Germany had their houses and fences painted yellow by "real Americans" in the middle of the night. My grandfather was one of them but his reaction was not of fear but of defiance (or stubbornness, depending on how you look at it). "If a yellow house means I'm German then I will show that I'm proud of it." he said (in German, of course). He painted the rest of the house yellow and that is the color it stayed until he died.
SOME TIPS FOR FINDING YOUR OSTFRIESLAND ANCESTORS
The Tazwell County Genealogical and Historical Society at P.O.Box 312, Pekin, Illinois 61555 has been a good source for me because Pekin is the place where all four of my grandparents settled when they came to the USA. The dues are only $12.00 per year and they produce a good newsletter also. They have produced wonderfully complete cemetery records for Tazwell County which they sell for a relatively small fee, plus other records. Well worth a membership if you have ancestors from this and surrounding counties.
The Peoria County Genealogical Society , P.O.Box 1489, Peoria, Illinois has lots of resource books and records including (I think) the entire set of Germans to America. I do not know what the current dues are but they are not overly high if your ancestors lived here. They will do research by volunteers.
The genealogy society in Lexington, Illinois is located in an old bank which is now called "The Fort". The number of books and records in this tiny town is amazing. Annual fee is nominal.
Don't forget The Church of Jesus Christ Later Day Saints (Mormons) Family History Centers. Although I am not LDS I volunteered in the Anchorage FHC for a couple of years because I got so much out of it. You don't have to be Mormon (over half of the patrons are not), and they won't talk religion to you unless you ask. They are extremely helpful and, best of all, free unless you order special films for a small fee.
The Ostfriesian Heritage Society, 18419 205th St., Grundy Center, IA 50638 publishes an interesting newsletter quarterly. The membership is $10.00 per year.
For imported Ostfriesen tea and beautiful tea service contact Boyken & Boyken, P.O.Box 317, Bancroft, IA 50517-0317.
Hilda Bruns, Osterstrasse 7, 26736 Krummhorn, 1-Canum, Germany has been a wonderful contact for me in Ostfriesland. If you wish to contact her please send all the information that you have on your ancestor along with $3.00 cash (American) for postage.
She will see if she can locate the records for you or can refer you to someone else. Along with her answer she will tell you how much to send to her. Cash is perfered and I have never lost any in the mail. Her rates are very resonable, usually from $20. to $40. depending on how many generations she finds. If she has them, she includes all the siblings names and years of birth. There will be a bit of a wait as Hilda dosn't know English and must wait for her son to translate for her on weekends. They are both wonderful people and so very helpful.
The January/ February 1995 issue of Everton's Genealogical Helper had a wonderful article on Ostfriesian Genealogical Research by Michael John Neill, PO Box 1324, Galesburg IL 61402-1324.
I picked up a wonderful map published by Michelin a few years ago and it's still the best I've seen. It is number 411 of their Deutschland group of four Germany maps and is subtitled Schleswig-Holstein Niedersachsen. It should be available in good book stores for about $8.00.
Before the citizens of Ostfriesland were ordered to take a surname and keep it by Napoleon (1814) the children were usually named after the father's given name. For a complete explanation see the Genealogical Helper article or:

Gary Verver's Home Page

Although his page mainly concerns The Netherlands it is about the Friesian culture and the site is very interesting to persons of our heritage.
---

E-mail:dsewell@alaska.net

---
---