Release date: February 7, 1940

Running time: 88 minutes

Supervising director: Ben Sharpsteen and Hamilton Luske

Voices: Dickie Jones (Pinocchio), Cliff Edwards (Jiminy Cricket) Christian Rub (Geppetto), Walter Catlett (J. Worthington Foulfellow), Mel Blanc (Gideon), Charles Judels (Stromboli and Coachman), Frankie Darrow (Lampwick), Evelyn Venable (Blue Fairy), Don Brodie (Barker on Pleasure Island).

Music & Lyrics: Leigh Harline, Ned Washington and Paul J. Smith.

Artistic Consultant: Gustaf Tenggren and Shamus Culhane.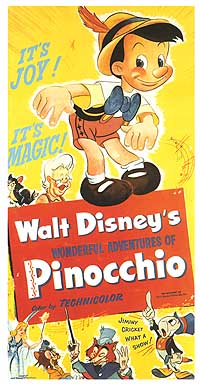 Original release movie poster.
Art Direction: Charles Philippi, Hugh Hennesy, Kenneth Anderson, Dick Kelsey, Kendall O'Connor, terrell Stapp, Thor Putnam, John Hubley, McLaren Steward and Al Zinnen.

Animators: Jack Campbell, Oliver M. Johnston, Berny Wolf, don Towsley, Don Lusk, John Lounsbery, Norman Tate, John Bradbury, Lynn Karp, Charles Nichols, Art Palmer, Joshua Meador, Don Tobin, Robert Martsch, George Rowley, John McManus, Don Patterson, Preston Blair, Les Clark, Marvin Woodward, Hugh Fraser and John Elliotte.

Backgrounds: Claude Coats, Merle Cox, Ed Starr and Ray Huffine.

Character Designs: Joe Grant, Albert Hurter, John P. Miller, Campbell Grant, Marten Provensen and John Walbridge.