And this is where I'll have pictures of our camp trailer, boat and some other fun pictures of things we like to do in this great state.
This is our cabin in the woods. Will try to find a better picture to replace this one. We have different snowmachines now too.
This is one of me stuck on the mountain. Was kinda steep.. *LOL*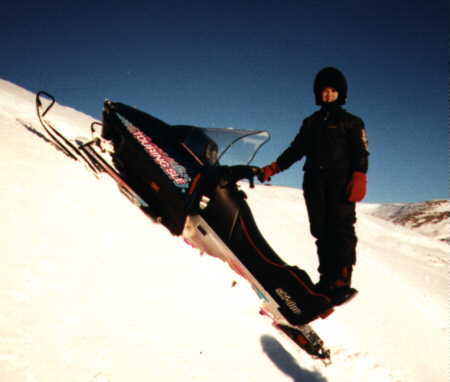 We also enjoy camping during the summer. This past summer we traded in the Shasta for this Carriage 5th Wheel Travel trailer. It is bigger than the Shasta and also has a slide out. That gives us alot more room inside. Koyo really likes the extra space. *S*
Another of our summer pasttimes is to go fishing. We sold the old boat and aquired this Bayliner Classic. We've only taken it out twice. The first trip was in a lake just to get the feel of the boat and how it handles. Then we took it down to Homer and went out into the Bay. Koyo even got to take her first boat ride that day. She did extremely well, and when we stopped in Seldovia we got a few comments on how pretty she was. That always makes ya feel good. She was also well behaved when we took a walk down main street.

Back to the main page.