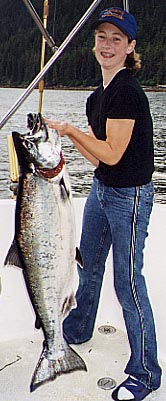 About Alaska Boat Charters
Lauren Burch PO Box 20424 Juneau, Alaska 99802 (907)586-4656 Email About Alaska Boat Charters

Private Charter boat trips in beautiful Southeast Alaska. Catch salmon, halibut, crab, shrimp, and rock fish, or relax and enjoy the view. Visit hot springs, small villages, glaciers, and see incredible wildlife. Join us for 1-14 day trips on one of our three boats. Something for every interest. Something for every budget. Click on the buttons for pricing and specifics on each boat.

Check out our links for other things to do, lodging and air travel. If we don't have what you are looking for, we know someone that does! We look forward to hearing from you and happily offer advice or other options.

Fishing Photos
---

The time and temperature in Juneau


Be sure to see our other pages. Then check these other sites if our style of fishing, whale watching, or kayaking don't interest you.
http://www.alaskafishing.com
http://www.alaska.com
http://www.fishing.com
http://www.travel.com
http://www.cruise.com
http://www.alaskacruise.com
http://www.alaskaairlines.com
http://wwwalaskamarinehighway.com

Web page design by C. Fulwiler