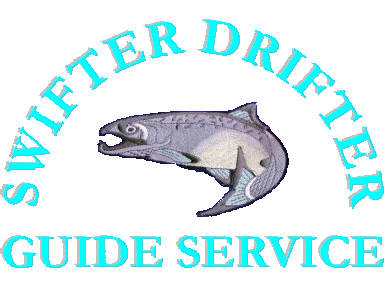 PO BOX 2357 Soldotna, Alaska 99669
(907) 262-1521 E-mail: swifter@alaska.net
Toll Free: 1-888-462-1521

SILVER SALMON FISHING

| | |
| --- | --- |
| Silver Salmon in Alaska will test the skills of some of the best anglers in the world, and sometimes the fish WIN! | |

| | |
| --- | --- |
| | Picture this in your mind: You set the hook hard and the fish comes straight up and out of the water. After battling for a while, you have him next to the boat. Then, suddenly, they zip away on TOP OF THE WATER like a torpedo! The fight starts all over again and your wondering the whole time if that hook is set good enough. |
Call today to book this fishing trip. August - September. Alaska Silver Salmon may be one of the most explosive fish you will ever hook into.
Swifter Drifter Guide Service
PO BOX 2357
Soldotna, Alaska 99669
(907) 262-1521
E-mail: swifter@alaska.net
Toll Free: 1-888-462-1521
Home / King Salmon / Silver Salmon / Rainbow Trout / Halibut
Fishing Packages / Lodging


Visitors
Website by

computer services.